Joan Rivers: What it was like being her make-up artist?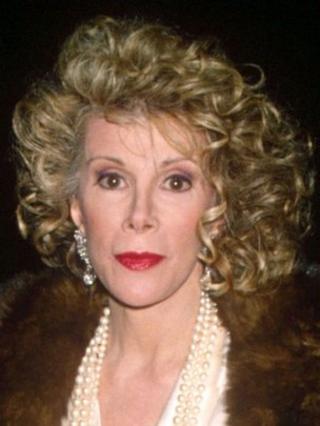 When Joan Rivers landed her first UK show Can We Talk? in 1986, British make-up artist Mark Easton was called in to do her make-up. He went on to work with her for many years and has shared his memories of those times with the BBC.
I remember her very first words when I went in to her dressing room at the BBC. She said "Hi, what's your name?" and I said, "Mark". And then she just said "Ok, hit that face!".
I was doing high fashion and motion picture stars at the time but I got the job because my agent Michael John used to look after all Cher's wigs at his salon in Beverly Hills and Joan and Cher were very close friends. Every time she came to England I looked after her.
She had a book tour coming up and they asked me to go to the States. She was doing a coast to coast tour with the Oprah Winfrey show and David Letterman and that's when the news broke that she had split with Johnny Carson [when she left The Tonight Show to front a rival talk show] and there was a big ruckus there.
She was a hugely funny woman and always up for a joke. Travelling coast to coast in the back of a limo, she had her scriptwriting team with her and the banter would be going on all the time to create her material. There were quips but I can't say she told jokes all the time. She'd talk about books, she was incredibly well read, and she'd be talking about her daughter Melissa and life in general.
She was incredibly generous. When I was in Hollywood with her, they'd put me up in a very nice place, all expenses paid. I wanted to see the Guggenheim museum and it was closed, so she just phoned them up and they opened it up especially. We just drove up there and had lunch when it was completely empty. Her house on Bellagio Drive in Beverly Hills was a beautiful home, she was a very sophisticated lady. And a tough business woman, she probably had to be to stay at the top like that.
At that particular time, she'd had work done. She'd probably have an acid wash [peel] every now and again, but it was not an obsession with her. All ladies of a certain age in Hollywood, if they wanted to continue working, they had to look good. Often we'd go for dinner at Le Gavroche or somewhere like that and we'd all eat and Joan would have a glass of white wine and a plate of pills!
I just loved her as a human being, she was such a smashing lady, but she would be quite wicked sometimes. I remember we were in Chicago staying at the Four Seasons and we were coming down in the lift, and the lift was packed, and she said: "I must phone [Barbra] Streisand, she's just had an operation on her throat - she's never going to sing again!".
And then she'd just sail out in her mink coat, with a wink and a smile in her eye - and that was Joan. She'd be like, "that will be in the press tomorrow". But it was all in good fun. All the people she sent up knew it was all part of the act and they'd be on the phone the next day and having supper together.