TV's Countdown gets Guinness World Record on 6,000th show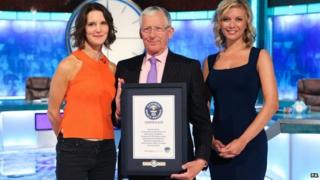 Channel 4 game show Countdown has achieved a Guinness World Record as the longest running programme of its kind.
The afternoon brainteaser, which is in its 70th series, reaches its 6,000th episode on Friday.
It was the first show aired on the network when it launched in 1982, with the late Richard Whiteley at the helm.
Current presenter Nick Hewer, maths whizz Rachel Riley and the dictionary corner's Susie Dent will be presented with the award.
A Guinness World Records official will formally confirm Countdown has the record for the "most series broadcast for a TV game show".
Hewer said it was a "huge honour" to have the programme recognised for its longevity.
'Durable, intelligent format'
"Having 32 years under its belt, I am only a novice, coming up to three years on the show," he said.
"But I and the whole team are incredibly proud to be part of such a durable and intelligent format that relies on intellect rather than prize money."
The words and numbers game was fronted by Richard Whiteley for 23 years and made a household name of former maths problem solver Carol Vorderman.
Following Whiteley's death in 2005, Des Lynam and Jeff Stelling also presented the show.
Guinness World Records editor-in-chief Craig Glenday described Countdown as a "cornerstone of British popular culture".
"Its 70 series attest to its class, quality and pure entertainment value," he added.
"It's every bit a part of TV time as the cuppa itself, and I'm looking forward to its next 6,000 episodes."