RSC to stage John Ford play 400 years after its debut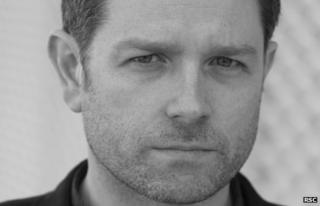 The Royal Shakespeare Company is to stage a 1620s play by John Ford for the first time since its debut, as part of their summer 2015 season.
Love's Sacrifice, the tale of a tragic Italian prince, was chosen by the RSC in an "X Factor style contest" to pick an old production to revive.
RSC artistic director Gregory Doran said Ford's work proved the "most extraordinary, most exciting".
The new season will open with Arthur Miller's Death of a Salesman.
The company will take the unusual step of opening a season with a non-Shakespeare production to mark the centenary of Miller's birth.
Actor Antony Sher will play the lead role of Willy Loman in the US classic.
A fresh production of Othello will also be staged, with the RSC casting black actors in both the lead roles of the titular character and Iago for the first time.
Mr Doran said the RSC reached out to the academic community to come up with a forgotten play to revive, and brought together four scholars - each championing a play - along with actors and directors.
"It was a very, very vigorous week," he told BBC Arts Correspondent Rebecca Jones.
"On the final day we had a kind of X Factor pitch, and each group pitched their favourite play. Each group had a vote on which play they wanted to win."
He added that Love's Sacrifice also won because it offered the best roles for actors.
Mr Doran said that many plays are abandoned for centuries because they are not very good, but others because they simply haven't been done.
"We seriously have a role to play in putting those plays back up there for serious consideration by academics and audiences alike," he said.
The play, which will open on 11 April at the Swan Theatre in Stratford-upon-Avon, is based on the life on 16th Century Italian prince Carlo Gesualdo, who murdered his wife and her lover in their bed.
He fled to Naples where he spent the rest of his life composing spiritual music.
Ford is considered one of the most important tragic playwrights of the reign of King Charles I and wrote a number of other works including The Lover's Melancholy and 'Tis a Pity She's a Whore, which was staged a number of times in the 20th Century.
It was also adapted into a TV movie in 1980.