London Grammar and Arctic Monkeys win at the AIM Awards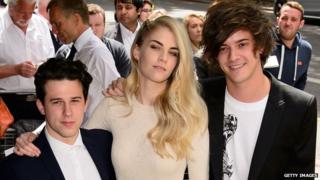 London Grammar, Arctic Monkeys, Twin Atlantic and Sophie Ellis-Bextor were among the artists celebrated at the AIM Independent Music Awards.
Arctic Monkeys picked up album of the year for AM, while their record label Domino won label of the year.
London Grammar won two of the four awards they'd been nominated for, including breakthrough of the year.
Singer Hannah Reid told the BBC it felt "really special", adding "it really has happened quite quickly, it's amazing."
The group have enjoyed success with their debut album If You Wait, winning an Ivor Novello Award earlier this year.
London Grammar's second prize of the night was for most played new independent act but keyboardist and percussionist Dot Major was missing from the stage as they collected their plastic robot trophy.
"I didn't think we were up for that award, so I went to the toilet," he admitted sheepishly as he appeared in the press room.
"When I got back to the table I noticed both Dan and Hannah weren't there and I thought, 'either they've both gone to the toilet, or we've won an award'."
'A privilege'
Martin Mills, who founded The Beggars Group of labels and has nurtured artists including White Stripes, The Charlatans and The Prodigy was honoured with the Pioneer Award, celebrating his four decades in the industry.
"It means a lot because it is the respect of your peers," he said, after one of his current favourite acts Daughter closed the ceremony with a special performance in his honour.
"From Jack White to Cat Power to Kim Deal, the list goes on and it's a privilege to have been able to have done that. It is an amazing list when you look at it and I like to think in a way it's self perpetuating," said Mills.
"If you do things that artists see as great then great new artists come to you. As long as we manage to not put out boring and banal music, as long as we continue doing great things, people will come to us to do great things."
On stage his speech gave way to a special surprise award, which Mills presented to Alison Wenham, AIM's chairman and CEO - without whom he said "all of this would not be here".
Twin Atlantic were awarded independent track of the year for Heart and Soul, having opened the ceremony with a specially pared-down acoustic set.
Dan Le Sac Vs Scroobius Pip won the independent video of the year award for You Will See Me, just days before their final gig together at this weekend's Bestival on the Isle of Wight.
When asked who would get to keep the award, rapper Scroobius Pip said it would be "a monthly swap back and forth. It's going to cost us more in postage than the budget of the video."
He continued: "Because we were so directly involved - me and my mate Tom directed it, we came up with the idea ourselves, it was just us and Tom there - it means more because it's not come from a big production company."
"We chose what was right for us," added Dan Le Sac. "The award proves that Pip knows how to make a video and he was right, and they [the label] had the faith to let us be right."
They lost out in the best live act category to Sophie Ellis-Bextor, while grime star Ghetts won hardest working artist.
'Extra special'
Electronic music pioneer Richie Hawtin was honoured with a special outstanding contribution award and the unique award of best 'difficult' second album went to Ben Watt for Hendra - 31 years after his debut solo effort.
"Well 31 years is quite a long time, which I always thought was quite funny," said Watt, best known as one half of the duo Everything but the Girl, with long-term partner Tracey Thorn.
"It was a pressure in itself but once people heard that I was getting back to playing guitar again, I think there was a sense of excitement."
It came on the same day Watt featured on the longlist for the Samuel Johnson prize for non-fiction, for Romany and Tom, a memoir of his parents.
He said the AIM Award "feels extra special. It's an amazing thing to be given."
A full list of winners is available on the AIM website.