Larry David to make Broadway stage debut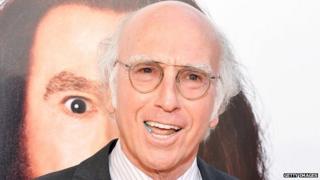 Larry David, co-creator of US sitcom hit Seinfeld, is to appear on the New York stage for the first time.
The 67-year-old, who also wrote and starred in Curb Your Enthusiasm, will make his debut in Fish in the Dark, which he also scripted.
Previews for the new play will begin on 2 February at the Cort Theatre, with the opening night set for 5 March.
David has said that he will be playing "someone very similar to Larry David" in the new production.
"It might even be Larry David with a different name," he added.
Few details about the new play have been made public but David revealed it would be a comedy surrounding a death in the family.
The ensemble cast who will appear alongside David have also been announced by producers.
They include Oscar-nominee Rosie Perez and Jerry Adler, who played Hesh Rabkin on The Sopranos.
Anna D Shapiro, who won a Tony Award for her staging of August: Osage County, will direct the production.
David, whose writing in popular comedy show Seinfeld won him an Emmy and earned him a share in a second gong with Jerry Seinfeld, who starred in the show.
His character in Curb Your Enthusiasm - largely based on himself - was known for his crippling social misunderstandings and situations.
Both projects were long-running hits on the small screen, with Seinfeld appearing on air from 1989-98 and Curb Your Enthusiasm enjoying an 11-year run until it drew to a close in 2011.
David's subsequent projects include the 2013 TV film Clear History, in which he also appeared.