Placido Domingo to close iTunes festival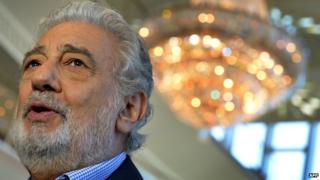 Opera star Placido Domingo is to close the iTunes festival in London at the end of this month.
He joins a line-up which includes Pharrell Williams, Kylie Minogue and Ed Sheeran along with fellow classical artist, Nicola Benedetti.
The month-long series of concerts will culminate with Domingo's performance at London's Roundhouse on 30 September.
Domingo said he was "thrilled to be the final performer at this year's iTunes Festival seen all over the world".
"(I'm) thrilled to be following Katy Perry who was last year's closing performer; thrilled to be able to perform with other excellent singers; and above all, thrilled for the recognition that this brings to the unique and magnificent world of opera and classical music," he added.
The tenor, 73, recently conducted Bryn Terfel and Sondra Radvanovsky in Tosca at London's Royal Opera House.
Singer-songwriter Imelda May has also been added to the iTunes schedule alongside veteran crooner Tony Bennett on 6 September.
As in previous years, Apple will live stream the concerts through iTunes to more than 100 countries around the world.
Tickets are free with a limited number given away to competition winners.
Earlier this year, the iTunes Festival branched out to the United States for the first time with concerts in Austin during the South by Southwest music festival (SXSW).
The iTunes festival was launched in 2007.