BBC World Service boss Peter Horrocks to step down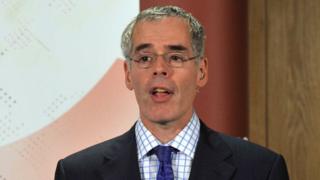 The director of the BBC World Service, Peter Horrocks, is to leave the corporation in the New Year, it has been announced.
Horrocks, who has worked for the BBC for 33 years, has held the position since 2009.
The international service was moved from Foreign Office control to licence fee funding under his tenure.
Horrocks said the time has come for him "to move onto his next challenge".
He added that it had been a "privilege" to lead the World Service for the last five years.
"I will miss the BBC but am confident that the BBC's global news services are in strong shape for the future."
BBC director general Tony Hall praised his "remarkable career" at the corporation.
"He leaves us as one of our most respected leaders. He is a force of nature and we will miss him," he said.
'Sharp intellect'
"Those who have worked with him know of his energy, drive, his passion for journalism and his innovation but they have also come to appreciate his editorial integrity and his deeply rooted sense of BBC values," added Lord Hall.
James Harding, director of news and current affairs, said: "His sharp intellect, open-mindedness and good judgment have shaped BBC news and current affairs for three decades.
"Like few others, he has set his stamp on both the programmes and the personality of the BBC," he added.
Horrocks has worked in a variety of roles during his career, including his stints as editor of flagship current affairs programmes Newsnight and Panorama.
He produced the TV general election coverage in 1992 and 1997.
Horrocks also held the positions of head of current affairs and head of TV news. He also created the first multimedia newsroom in 2007.
His job as director of the World Service puts him in charge of its 28 language services and English language radio and TV.