Maxine Peake: More actresses should play male roles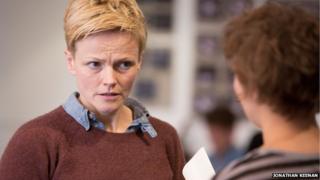 Maxine Peake has said she hopes playing Hamlet will make it easier for women to fill male roles because Shakespeare's female parts are "quite problematic".
Peake will play Shakespeare's Prince of Denmark at Manchester's Royal Exchange theatre in September and October.
Hamlet is "the ultimate part" and is more well-rounded than female theatre characters, the actress said.
The star of Silk and The Village said her Hamlet would be a woman who is "in touch with her more masculine side".
Peake is currently in rehearsals, where she is getting to grips with the first theatrical fight scenes of her career.
"Yesterday I pulled a muscle in my armpit as Kevin the fight director threw me," she said.
"It's proper full-on. It's a bit like a dream come true because I'm on stage and I'm doing a sword fight and then I'm punching him in the head.
"I get why all men get very over-excited about playing Hamlet because you do everything. Every emotional base is covered.
"It is encapsulating the ultimate part, where you get to stretch everything. You think, yeah, you don't get that [normally]."
Peake appeared as Ophelia in Hamlet at the West Yorkshire Playhouse in Leeds in 2002 and played the prostitute Doll Tearsheet in the BBC's Henry IV in 2012.
She said: "They're always quite problematic, I find, the female roles in Shakespeare."
It was not her intention "to do Hamlet and start a revolution" among female performers when taking the role, she explained.
But she added that other actresses needed "a bit of confidence" and to see that it was possible to take on male characters.
'Extraordinary opportunity'
"And then you hope that in 10 years time that nobody questions it," she said. "That's just who happens to be playing Hamlet or Macbeth or Henry V - the right person for the role.
"Sometimes, as an actress, there have been male roles where I've thought, I could do that, I could get my head into that. Just because I haven't got the appropriate genitalia doesn't mean that I can't understand that.
"And sometimes you get female roles and you spend a lot of time going, 'I don't get this woman'. So this opportunity has just been extraordinary."
Other actresses have taken on Shakespeare's great roles in the past.
Fiona Shaw played Richard II at the National Theatre in 1995 and Kathryn Hunter played King Lear in 1997. An all-female Julius Caesar was staged at the Donmar Warehouse in London in 2012, and an all-female Henry IV will be seen there in October.
Frances de la Tour was the last high-profile woman to play Hamlet in the UK, in 1979.
Hamlet 'male and female'
Royal Exchange artistic director Sarah Frankcom said: "Up until this century, there was a massive tradition of women playing this role.
"For a lot of really well-regarded female actors in the Victorian age and before, it was seen as being part and parcel of your journey and genesis as an actor."
Frankcom said Peake's Hamlet would be "a combination of male and female".
"We've looked at gender as a spectrum rather than something that is either male or female," she said. "Hamlet occupies different parts of that spectrum at different parts of the play."
Peake said approaching the role as a woman had allowed her to see the play in a new light.
"Some of the things that I read initially as all the classist misogyny now are really potent," she said. "It sort of flips it and you go, oh right, I forgive you Shakespeare now for this.
"This really works as a woman in touch with her more masculine side saying these lines. It feels right. Sometimes you go, oh my God, this was definitely written for a woman."