Listening to the sounds of the woods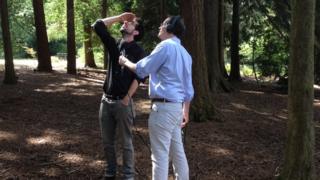 I have a new respect for fungus and I owe it to music. The Living Symphonies is a project that has this summer been touring some of Britain's woodlands.
Sound artists Daniel Jones and James Bulley have been creating bespoke pieces of music to reflect the ecology of various forest glades around the country.
Speakers are hidden in the undergrowth and are linked to computers that perform a symphony composed of sounds linked to the plants and wildlife and changes according to the weather and time of day.
They create musical motifs for specific trees, animals and plants. We may not spot the moss and fungus under our feet but in the symphony there are notes and phrases reminding us of these vital bits of the forest ecology.
A skittering violin sound is, I am told, a squirrel - the rhythmic gong, a Scots Pine. You might not see the frogs in the forest in Cannock Chase but sitting on a tree stump listening to the music they are a vital part of the local symphony.
The music is warm, harmonic - welcoming and that is intentional. We may think of nature as a brutal place of eat or be eaten but this musical portrait of ecology suggests something rather more co-operative and communicative.
Keen to understand more, I sought out someone who could perhaps explain how our evolving view of ecology is feeding in to artworks such as this.
I travelled to Norfolk to meet the nature writer Richard Mabey and went for a walk in his little patch of woodland.
What, to me, was a scruffy thicket was to Richard "an intense communicating living system, it is entirely possible that the trees are aware of us." I think I raised an eyebrow or two at this point.
We might debate what exactly "aware" might mean but this lesson on the sensory powers of plants was opening up a feeling that a quiet woodland walk was actually alive with biological chatter that we, sadly, cannot eavesdrop on.
There are, Richard Mabey says, 20 senses that have been identified in the plant kingdom from echo-location to chemical messaging between leaves and sensitivity to static electricity.
"Leaves can send out a warning that they are under attack from aphids" and trees can respond with chemical defences.
The musical harmony hints at what Richard Mabey feels is a rather more accurate model of nature.
"Forests are, even to just the half open eye, a fantastic example of the benefits of co-operation," says Mabey.
"The images of nature that we absorb from television convey a world of such mutual hostility, the classic big cat going in for the kill is essentially our model of nature.
"But the reality is altogether more co-operative and reciprocal."
"It gives a rather more optimistic sense of how the world works."
Returning to the symphonic walk in the woodlands, I began to grasp that this was more than just a piece of music in a beautiful place. It was presenting a vision.
One repeated note in the symphony was reminding us of the fungus that lay beneath us.
Deep underground was a symbiotic relationship between the roots of trees and fungi. Each provides the other with vital nutrients.
High above us there was a pale green sheen of moss that could be seen on the branches and it had its own musical motif.
A single tree can harbour 70 varieties. The thrumming percussion and twittering notes mixed in with the real life sounds of raindrops and wind suggested a busy world of communication and interaction that was largely invisible.
This woodland walk with music was a way of retuning the brain. The sound of your breathing and rustling waterproofs becomes part of the music in the way that your breath and movements are just an element in a vast interacting ecological web.
You are no longer an outsider looking at a thing called nature, you are for a moment or two reminded that you are just a part of it, a biological expression of the same processes and relationships.
You may not know the names of all the trees or quite how they are communicating but the music is a sort of metaphor of the unseen and unheard processes around us as we walk through the woods.