Channel 4 boss urges caution over US buyouts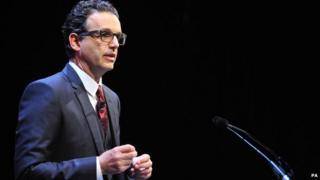 Allowing sectors of the UK TV industry to be bought up by US media companies poses a risk to the UK's tradition of innovation and risk-taking, the head of Channel 4 has suggested.
"Our free-to-air channels have become must-have accessories," David Abraham told an audience in Edinburgh.
Independent production firms, he said, had been "snapped up almost wholesale".
He called on politicians and regulators to act "decisively" to safeguard public service broadcasting (PSB) in the UK.
MTV Viacom's £450m acquisition of Channel 5 and the purchase of All3Media, producer of shows including Skins and Midsomer Murders, by Discovery Communications and Liberty Global showed the UK's television industry "risks becoming a victim of its own success", Channel 4's chief executive continued.
Abraham, who has been with the channel since 2010, made his remarks while delivering this year's James MacTaggart memorial lecture at the Edinburgh International Television Festival.
Last year's MacTaggart lecture was given by US actor Kevin Spacey, who used his speech to champion streaming services like Netflix, the producer of his acclaimed House of Cards TV series.
According to Mr Abraham, Spacey's show, along with many others, owed its success to a creative gambit taken initially by a British public service broadcaster.
"Would Netflix have bought a show about a murderous politician who broke the 'fourth wall' of drama if the BBC hadn't taken that risky decision, decades before?" he said.
"This special landscape of ours did not... happen by accident. So we should not assume that, left purely to the market, it will continue to thrive."
Mr Abraham's speech included a plea to Ofcom and the government to "update and strengthen the PSB system, the system that has delivered so spectacularly for UK viewers and for UK PLC".
His call for increased protection of Channel 4 and other public service broadcasters prompted a robust response from the Commercial Broadcasters Association (Coba), the UK industry body for digital, cable and satellite broadcasters.
The UK broadcasting sector, it said in a statement, "benefits hugely from an increasingly mixed ecology, with a wide range of players, both PSB and non PSB, investing in different forms of domestic production".
"Intervention that damages one part of this sector in favour of another risks undermining this success and putting at risk the UK's status as a global television hub."
Coba's members include Fox, NBC Universal and other US broadcasters that operate in the UK.
BSkyB also rejected Mr Abraham's suggestion that PSB broadcasters should be financially recompensed for allowing their stations to be viewed via Pay-TV platforms.
The proposal, said Graham McWilliam, Sky's group director of corporate affairs", amounts to a discriminatory tax on millions of licence fee-paying viewers to watch public service content that is supposed to be free".
Channel 4, he added, "should not be allowed to walk away from the obligations of universally free access which come with the very significant benefits of public service status".
The BBC used to pay Sky £4.5m a year to transmit on its platforms. The two broadcasters reached an agreement in February to drop the fee completely.
Though largely spared criticism in Mr Abraham's wide-ranging address, the BBC did not wholly escape censure, or the occasional jibe.
The corporation "should be taking more risks", he said, going to suggest that shifting BBC Three's output onto the iPlayer would see the service "buried [more] thoroughly [than] radioactive waste".
"Subject to approval from the BBC Trust, we hope our exciting plans for BBC Three will set a new bar in engagement with young audiences," the BBC responded.