Disabled artists protest over Grayson Perry gallery
By Ian Youngs
Arts reporter, BBC News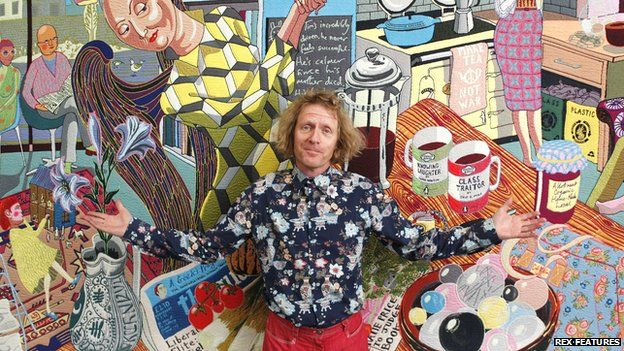 Disabled artists in Leeds are going up against Grayson Perry by staging their own exhibition in protest against the venue for his new show in the city.
Perry's The Vanity of Small Differences is on display at Temple Newsam House, but the venue is not fully accessible.
So eight disabled artists are putting on their own rival textiles exhibition.
Organiser Gill Crawshaw said: "You might be putting the tapestries on in an ancient building, but you shouldn't be thinking in an ancient way."
The historic venue is owned by Leeds City Council, which admitted the accessibility was "not what we would wish it to be".
A representative for the Turner Prize-winning artist said he was out of the country and not available for comment.
The "rival" exhibition, titled The Reality of Small Differences, opens at the Union 105 and Inkwell Arts venues on Saturday, the same day as Perry's six large tapestries go on show at Temple Newsam House.
Ms Crawshaw said: "The main aim of the exhibition at first was a protest and to make a statement and say this is an outrageous decision to put the tapestries there.
"We wanted to highlight that that was discriminating against disabled people.
"However, it's become something in its own right because disabled people are doing fantastic work and there are loads of artists out there making interesting work."
A statement from Leeds City Council said: "Temple Newsam House is, by its nature, one of our most difficult venues in which to implement accessibility measures.
"However, Leeds Museums and Galleries will continue to strive to do all we can to ensure exhibitions and works can be enjoyed by as many people as possible, irrespective of their personal circumstances."
One of the six tapestries is in a fully accessible gallery and the venue has bought a "stair climber to improve access for wheelchair users and people with limited mobility", the council said.
There will also be a film of the tapestries and an app to zoom in and see the detail.
Ms Crawshaw added: "It adds insult to injury doesn't it? An app or watching a video that's already been on television anyway is nowhere near the same experience as getting to see the tapestries themselves."
Ms Crawshaw said she had invited Perry to visit their exhibition. "I understand he's away," she said. "I do think he would approve, actually, of what we're doing, and I do think he would enjoy the artwork we've got on show."
Leeds is the final stop in a UK tour for The Vanity of Small Differences, which has already visited Sunderland, Manchester, Birmingham and Liverpool.
Related Internet Links
The BBC is not responsible for the content of external sites.