Anna Nicole Smith estate loses bid for Marshall fortune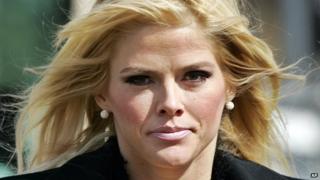 A US judge has rejected a final bid by the estate of former Playboy model Anna Nicole Smith, challenging the will of her late husband J Howard Marshall.
Smith, who died seven years ago, married the Texas billionaire in 1994 when he was 89 and she was 26.
He died the next year, leaving his $1.6bn (£960m) estate to his son and nothing to Smith, which she challenged.
A judge has now halted efforts by lawyers acting on behalf of Smith's daughter to obtain $44m (£26.5m).
After oil tycoon Marshall's death, reality TV star Smith - using her real name Vickie Lynn Marshall - filed legal papers claiming he had promised to leave her more than $300m (£181m) in his will.
Lengthy legal battle
During the past two decades many attempts have been made to overturn the will, including the Texas bankruptcy court and US Supreme Court.
A Houston jury previously ruled Marshall was mentally fit and under no undue pressure when he wrote his will, leaving his fortune to his son E Pierce Marshall - who himself died in 2006.
Efforts continued after Smith died of an accidental drug overdose in February 2007, with lawyers representing her seven-year-old daughter Dannielynn, who lives with her father Larry Birkhead.
However US District Court Judge David Carter's ruling means this will be the end of the matter.
"Time spent litigating the relationship between Vickie Lynn and J Howard has extended for nearly five times the length of their relationship and nearly 20 times the length of their marriage," Judge Carter said in court.
"It is neither reasonable nor practical to go forward."
According to Forbes, Judge Carter also said while the record showed Marshall and his lawyers had "a distinct disinterest in rules or ethics", Miss Birkhead's lawyers had failed to provide sufficient evidence of actual damages for him to award sanctions.
The Marshall family's lawyer, G Eric Brunstad Jr, said in a statement they agreed with the judge it was time to stop legal proceedings.
He added: "All of us who knew Pierce wish he was here with us to see the outcome of this case."
The executor of Smith's estate, Howard K Stern, has not commented on the ruling.