Benedict Cumberbatch to voice Shere Khan in Jungle Book film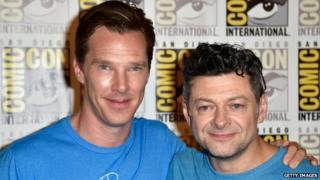 Actor Benedict Cumberbatch is to voice Shere Khan the tiger in one of the two Jungle Book films entering production.
The Sherlock star is the first voice actor to be cast in the Warner Bros movie, the directorial debut by Andy Serkis of Gollum and King Kong fame.
Titled Jungle Book: Origins, the film will be released in October 2016.
Idris Elba will voice Shere Khan in another adaptation of Rudyard Kipling's stories, a combination of live action and animation from the Disney studio.
That film, which will also feature the voices of Bill Murray, Scarlett Johansson, Christopher Walken and Sir Ben Kingsley, is currently scheduled for an October 2015 release.
Cumberbatch's dulcet tones will be heard later this year in the third Hobbit film, which will once more find him providing the voice of the fiery dragon Smaug.
He will also be heard as the voice of a wolf in Penguins of Madagascar, a spin-off from the DreamWorks Madagascar franchise due out in November.
George Sanders famously voiced Shere Khan in the original Disney cartoon version of The Jungle Book, first seen in cinemas in 1967.