Jeeves and Wooster West End cancels extended run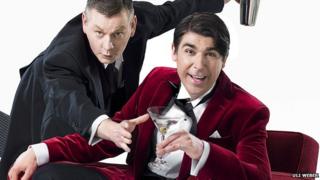 The West End production of Jeeves and Wooster in Perfect Nonsense, is to close four months early.
The show's producers had been taking bookings into January next year, but now say the run at the Duke of York's Theatre will end on 20 September.
The Olivier Award-winning comedy will start a UK tour a few days later in Guildford.
The play is based on the PG Wodehouse books about bumbling aristocrat Bertie Wooster and his valet, Jeeves.
John Gordon Sinclair and James Lance will play the two characters for the tour, which will include performances in Cambridge, Newcastle, Salford, Glasgow and Bath.
In a statement, producers Mark Goucher and Mark Rubinstein said they had struggled to cast the additional West End performances.
Seats offer
Thanking the actors and creative teams on the production, Goucher and Rubinstein said it was best to close the Duke of York's run "on a high" until they could "find a cast to match the three brilliant Jeeves and Woosters that we have had the honour to present".
They added they were looking forward to taking the production on tour.
Customers who have booked tickets beyond 20 September at the Duke of York's Theatre will be offered seats for performances before the run ends.
Directed by Sean Foley, Perfect Nonsense opened at the theatre in December 2013, starring Stephen Mangan and Matthew Macfadyen.
They were followed by Mark Heap and Robert Webb in the title roles.
Sinclair and Lance are the third cast for the production which won best new comedy at the Oliviers.
Sinclair is best known for playing Gregory Underwood in Bill Forsyth's 1981 film, Gregory's Girl while Lance has appeared in a number of TV comedy series, such as Smack the Pony and I'm Alan Partridge.