Monty Python live broadcast prompts Ofcom investigation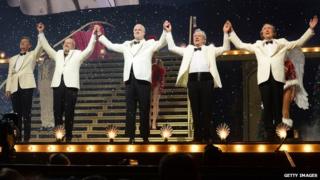 The live screening of Monty Python's farewell show has prompted an Ofcom investigation over bad language.
The broadcasting regulator said the O2 concert had generated complaints "about the broadcast of the most offensive language" before the 21.00 watershed.
Some viewers also complained that UK comedy channel Gold had bleeped out swearing from the 20 July performance.
But the media watchdog said it was "not involved in editorial decision-making" made before transmission.
"As a post-transmission regulator," it said, it could "only investigate programmes or take action against any channel after a programme's broadcast".
According to its latest broadcast bulletin, 34 complaints have been received about the live relay of the comedy troupe's final performance.
Many of the complainants objected to "cuts" and "censorship" after some of the swearing was cut out of the programme
According to Ofcom, though, some audience members claimed Gold had allowed some of the concert's most controversial language to slip through the net.
"All our licensees are required to comply with our broadcasting rules, which make clear that the most offensive language cannot be shown on television before the watershed," it said in a statement.
The 20 July concert was the last of 10 mounted by John Cleese, Michael Palin, Eric Idle, Terry Gilliam and Terry Jones, the remaining members of the cult comedy act, at London's O2 arena.
The show, which featured cameo appearances from comedian Eddie Izzard and Austin Powers star Mike Myers, was also shown at more than 2,000 cinemas around the world.
Gold - which is part owned by BBC Worldwide, the BBC's commercial subsidiary - screened an uncensored version of the show two days later, after the watershed.