Jeremy Paxman: One-man Edinburgh show gains warm reviews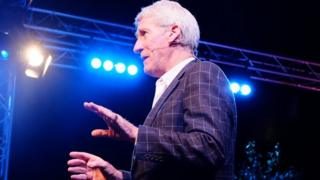 Broadcaster Jeremy Paxman's one-man show at the Edinburgh Fringe Festival has gained a favourable response from newspaper critics.
The ex-Newsnight presenter's debut at the event mixed "gravitas with self-mocking glitz", the Guardian said.
The Telegraph's Mark Monahan called the show, which mentioned his Russell Brand interview, "pacy and slickly-produced".
Monahan said the TV interrogator closed his performance with "surprisingly tender-hearted words".
The show, which sees Paxman choose a number of topics to speak about from a wheel of fortune, has sold out for its eight-day run at the Pleasance Cabaret Bar in the Scottish capital.
Audience members also had the chance to question the man better known for acting as the interrogator.
The Independent's Alice Jones sounded a note of caution, saying Paxman was "not a natural performer".
"There are times during the hour when he has the intelligently rambling air of a headmaster pontificating at speech day," she said.
But Jones added the show gave a rare insight into Paxman's softer side, with a foray into his love of fly fishing.
"There's something beguiling, sweet even, about this glimpse of the attack dog's human face," added the reviewer.
The format of Paxman's stage show also showed a clip of his interview with comic and actor Russell Brand, with the journalist reaffirming that he did not agree with his stance on voting.
The Guardian's Alex Needham bemoaned the fact that Tony Blair and death were among the topics that Paxman avoided in this debut.
The critic went on to say that the most well-received section of the show was about University Challenge, which Paxman has presided over since it was revived in 1994.
He said Paxman appeared "positively lyrical in his enthusiasm" for the long-running quiz programme.
Writing in the Times, reviewer Mike Wade concluded the show was "funny" and "insightful" and delivered a four-star verdict.
Pogonophobia - or fear of beards - was among the 26 topics on Paxman's wheel of fortune, referring to his decision to sport facial hair a year ago, which he subsequently shaved off in the New Year.