Downton Abbey stars back water charity after photo gaffe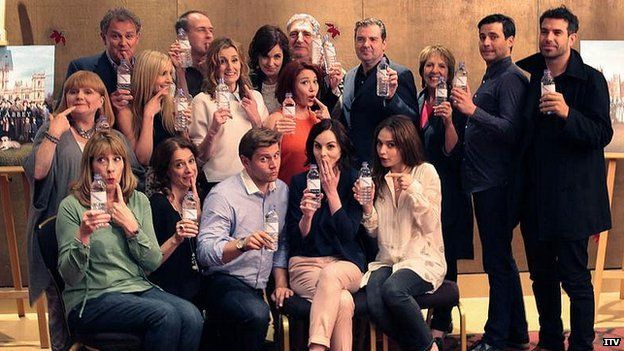 Downton Abbey's stars have posed with water bottles for a charity picture after a recent gaffe in which a plastic bottle was left in a promotional photo.
The period drama made headlines when a bottle appeared in the background of a photo promoting its fifth series.
That prompted ITV to release a second photo to support the charity WaterAid.
"The cast and crew came up with the idea of turning some of this attention towards an issue around water that really matters," a statement said.
"They hope that by posing for this picture they will be able to raise awareness and amplify the work of international charity WaterAid."
In the original photo, the modern bottle was perched on a mantelpiece behind Hugh Bonneville and Laura Carmichael, who were in costume as the Earl of Grantham and Lady Edith.
Plastic bottles were not in wide use in the UK until the 1960s - 36 years after the new series of Downton takes place.
The image was later removed from Instagram and the ITV press site.
An ITV spokesperson said: "While the water bottle is in the uncropped version of a publicity photograph we can assure you that it will not be making an appearance on screen."
WaterAid chief executive Barbara Frost thanked the show's cast and producers for their response.
"It brought a really big smile to my face when the cast of Downton Abbey said that they wanted to support WaterAid's work," she said.
"How fantastic that the attention created over one water bottle ends up benefiting some of the world's poorest communities through access to safe, clean water today."
Related Internet Links
The BBC is not responsible for the content of external sites.