Mel and Sue to host ITV chat show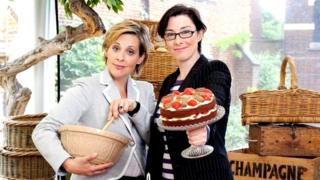 Great British Bake Off stars Mel Giedroyc and Sue Perkins have landed a chat show on ITV, 15 years after their Channel 4 chat show was cancelled.
ITV has commissioned 30 episodes of the hour-long daytime show, which has yet to be named.
The broadcaster said the show would see them interrogate "the nation's best-loved celebrities and some of Britain's quirkiest real life characters".
The duo previously hosted the Channel 4 show Light Lunch from 1997-8.
A chat show themed around the creation and consumption of a lunchtime meal, it was later moved to an evening slot and renamed Late Lunch before being cancelled in 1999.
The new ITV show will be made by Light Lunch's production company Princess Productions, which is also responsible for Sunday Brunch and Got To Dance.
Mel and Sue began their career as comedians at Cambridge University's Footlights club, and wrote and performed with French and Saunders before making their own TV debut.
After working separately for a number of years, the teamed up again on Great British Bake Off in 2010. The show proved to be a breakout success, and moved to BBC One for its most recent series.
Announcing the new show, Helen Warner, ITV director of daytime, said: "I've been a big Mel and Sue fan for years and I'm thrilled their new show will be part of the ITV daytime schedule.
"Both are brilliant broadcasters and comedians and bring a unique warmth and charisma as presenters."
"I've been asked to host a show with somebody called Porkin? Parkin? Portly?" joked Giedroyc.
"I've never heard of her - but I'll be very happy to meet her soon."