Andy Warhol: Hundreds of unseen films to be made public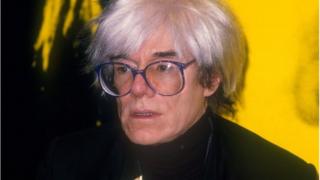 New York's Museum of Modern Art is to digitise hundreds of unseen Andy Warhol films and screen them for the public.
The project covers 500 films Warhol created between 1963 and 1972, and will take several years to complete.
It will see almost 1,000 rolls of 16mm film converted to the high-definition 2K format after being scanned frame by frame.
The footage is rare even to Warhol scholars because the film is so fragile and projectors are scarce.
Organisers hope the project will put the pop artist's film work on par with his painting and sculpture.
"I think the art world in particular, and hopefully the culture as a whole, will come to feel the way we do," said Patrick Moore, the Warhol Museum's deputy director and a curator of the digitisation project.
"The films are every bit as significant and revolutionary as Warhol's paintings."
Warhol obtained his first motion picture camera, a 16mm Bolex, in 1963 and recorded thousands of reels of film over the next decade,
The works included silent screen tests, portraits of his muses including Edie Sedgwick, and dozens of full-length movies in styles ranging from minimalist avant-garde to commercial "sexploitation".
Often, as with Empire - eight hours of slow motion footage of the Empire State Building - they pushed the boundaries of what film could be.
However, he withdrew the majority of his movies from circulation in 1970 and it is only since his death in 1987 that art historians have been able to re-evaluate his work in the medium.
The digitisation project was announced on Thursday by MoMA, the Andy Warhol Museum in Pittsburgh and visual effects firm MPC, which will convert the films to digital files.
It is thought the unseen films could shed new light on the art world in 1960s New York, which Warhol documented in near-obsessive detail.
The project is not the only recent attempt to recover "lost" Warhol works. A dozen pictures he created on the Commodore Amiga computer were recently reconstructed from 30-year-old floppy disks.
The digital images were discovered and recovered by staff and students who are members of Carnegie Mellon University's computer club.