Simon Callow's critical re-appraisal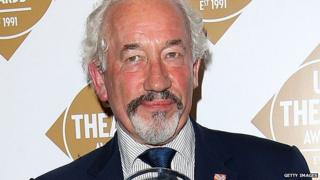 When Simon Callow first presented his one-man show Juvenalia nearly forty years ago at the Bush Theatre in London, the then 27-year old actor found he had a surprise hit on his hands. Critics and audiences loved it, he said yesterday at an event in the BBC's Potterrow tent in Edinburgh.
He has since become a specialist at the theatrical essay-cum-performance lecture, presenting around thirty different productions over the course of his career. Shakespeare, Dickens and Mozart have all been brought enthusiastically back to life by Callow's dramatic storytelling.
As has Wagner, in a show that he had hoped to transfer from the Royal Opera House to this year's Edinburgh Festival. But after a thorough assessment of its technical requirements it was deemed too difficult to pull off in the beer and skittles world of the Fringe. What to do?
Callow had the answer. Reprise Juvenalia. After all, Juvenal (AD 55 - 127) - a Roman poet who famously asked 'who will guard the guards themselves' - was one of the great satirists and produced, the 65-year old actor said, "The most savage pieces of writing in the whole of ancient literature".
He was the original grumpy old man, and therefore Callow reasoned, made for perfect Fringe-fodder. And technically fairly straightforward, too: all the show needed was a hand-held microphone, a dinner jacket and a couple of stage lights.
He suggested the idea to the 850-seat Assembly Hall management who readily agreed: The show must go on. But there has been a hitch. Not with the venue, or the production - which Callow says is very close to the original - but with the critical reaction.
Both the Guardian and The Times have given the show a damning one-star review, calling it a "major misjudgement" and "torturous".
Callow said he hadn't seen the reviews, nor does he ever seek them out, but...
'You know immediately if you've had a good review or bad review," he said. "There's always someone helpful to tell you 'Oh my god! What a stinker in the Guardian today Simon'."
Musing on the reason for the bad reviews, he pondered what had shifted culturally over the past four decades.
"The world has changed massively. A degree of something, which didn't exist in 1976, called political correctness has come to be very important… and rightly so… but some people take these things very, very literally indeed and some of that may be behind some of the reviews."
He admitted it is a show that divides opinion. Juvenal, he insisted, was a bigot.
"He attacks immigrants, he attacks women, gays, the new rich, the aristocracy, the emperor - he attacked them all."
Callow described Juvenal as an Alf Garnett type (the mean-spirited, ranting character played by Warren Mitchell in the 1960s, 70s sit-com Till Death Us Do Part), who also reminds him of his father.
"For me it is very personal, because my father was a man like that too. He was that angry man. He was furious about everything. One-way streets drove him insane. He was Alf Garnet. And that's Juvenal as well."