Rudimental working with funk legend George Clinton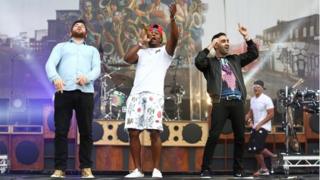 Dance act Rudimental have recorded songs with US funk legend George Clinton for their second album.
"One of our dreams came true recently," songwriter Kesi Dryden told the BBC.
"We managed to do two songs with George Clinton from Parliament Funkadelic. We worked with Steely Dan, as well. These are really big influences on us."
Clinton, 73, is one of the foremost innovators in funk alongside James Brown and Sly Stone, and his songs have been extensively sampled in hip-hop.
His hits include One Nation Under a Groove and Atomic Dog, later the basis for Snoop Dogg's What's My Name.
Steely Dan, formed by Donald Fagen and Walter Becker were more eclectic - combining pop hooks with jazz harmonies on songs such as Do It Again and Peg - memorably sampled on De La Soul's Eye Know.
But it is Clinton - and in particular his energetic, psychedelic live shows - who has been a major inspiration on Rudimental.
"We want to bring it back to what James Brown and Parliament were doing back in the day," said Dryden. "It was dance music, but it was live.
"We're really digging deep in that side of things and trying to bring back that energy to the stage."
However, fans face a long wait for the group's second album, which is due "hopefully" at the end of this year, said producer Amir Amor. "If not, then the beginning of next. We've got so many good tracks it's hard to pick."
"Finishing is the hardest part," agreed his bandmate. "Sometimes choosing what goes on the album - because we've got so many ideas - is a case of stopping arguing with each other."
But one person who has heard the new material is singer-songwriter MNEK - a frequent collaborator with Rudimental, who scored a number one earlier this year as the featured vocalist on Gorgon City's Ready For Your Love.
"They sound sick," the 19-year-old said. "The whole album is a progression.
"The Home album [Rudimental's Mercury-nominated debut] was so big and we all partied every night because of it - but when you make a second album you have to have some growth. And they've genuinely done that - and I'm really happy to be part of that."