Brad Pitt war drama Fury to close London Film Festival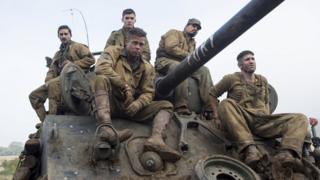 World War II drama Fury, starring Brad Pitt, is to close the 2014 London Film Festival, organisers have announced.
He will attend the 19 October premiere with director David Ayer, who said it was "a true pleasure to be returning to England, where we shot the film".
Set in 1945, Fury tells of an army sergeant who takes command of a tank crew for a mission behind enemy lines.
The shoot drew complaints last November for filming war scenes featuring extras in Nazi uniforms on Remembrance Sunday.
At the time, Ayer - whose other films include Harsh Times, End of Watch and Sabotage with Arnold Schwarzenegger - expressed his "heartfelt apologies for any disrespect caused".
Clare Stewart, London Film Festival director, described Fury as "a resounding cinematic achievement" that would bring this year's event "to a monumental close".
"Rarely is a film so successful at balancing the human drama of war with such thrilling action sequences," she added.
The film will go on general release in the UK and Ireland on 24 October.
"The fields of Oxfordshire and Bovingdon Airfield in Hertfordshire were our home for 12 weeks last year, so it's something of a homecoming for us to present the movie at its European premiere," said Ayer this week.
"I'm thrilled that festival audiences will be among the first in Europe to see it."
Pitt, 50, previously appeared in Quentin Tarantino's World War II film Inglourious Basterds and was seen last year battling zombies in World War Z.
Shia LaBeouf, Logan Lerman and Michael Pena also appear in Fury, which will have simultaneous screenings across the UK on the night of its Leicester Square premiere.
The London Film Festival will open on 8 October with The Imitation Game, a film about World War II codebreaker Alan Turing starring Benedict Cumberbatch.