Robin Williams: Broadway lights dimmed in actor's honour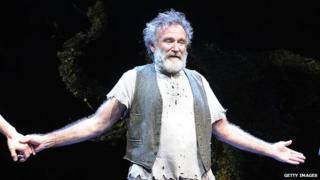 The marquees of Broadway's theatres were dimmed on Wednesday in memory of Robin Williams following the actor and comedian's death earlier this week.
Charlotte St Martin of New York's Broadway League called him "a comedic genius with limitless talent" who had "left this world far too early".
Williams will also be remembered at the Primetime Emmy Awards on 25 August.
Plans are under way for a "proper and meaningful remembrance", said executive producer Don Mischer.
Williams made an appearance at last year's ceremony during an In Memoriam segment to his comic mentor, Jonathan Winters.
Actor Simon Pegg has become the latest celebrity to pay tribute to Williams, who will be heard voicing a dog in Pegg's upcoming comedy Absolutely Anything.
Williams, said Pegg at the premiere of his new film Hector and the Search for Happiness, was "an extraordinary man and performer" who had "absolutely" been one of his comedy heroes.
"If anything positive can come from such an awful thing, it's that people will maybe take depression a bit more seriously," the Shaun of the Dead star added.
Williams, who took his own life on Monday, was said to have been "battling severe depression" in the months leading up to his death.
Singer Sinead O'Connor also paid tribute to the Dead Poets Society star by dedicating a concert in London to him on Tuesday.
The Irish performer went on to say "the choice that Robin made" was "a very bad idea" and urged anyone "contemplating that choice" to reconsider.
Williams, a dedicated fan of computer games, is also to be memorialised by Blizzard Entertainment, the company behind the popular World of Warcraft series.
"You gave us so much joy in our lives and we hope you enjoyed your time in our world," its makers tweeted. "We'll see you in-game."
The cast of Broadway show Aladdin also paid tribute to the star with an impromptu curtain call sing-along of Friend Like Me.
Williams provided the voice of the Genie in the 1992 Disney cartoon, a character recreated on stage by Tony award winner James Monroe Iglehart.
Williams' death at the age of 63 was confirmed as a suicide by hanging on Wednesday by authorities in California.
The entertainer was last seen alive by his wife on Sunday evening and was found dead at about noon on Monday.