Lindsay Lohan: Speed-the-Plow co-stars announced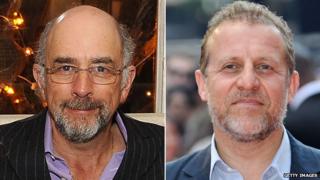 The West Wing star Richard Schiff and stage actor Nigel Lindsay are to join Lindsay Lohan in the revival of David Mamet's Speed-the-Plow.
Schiff, who won an Emmy for his role as Toby Ziegler in the US drama, will star as Hollywood producer Bobby Gould in the production.
Lindsay, who is currently appearing in A Small Family Business at the National Theatre, will play Charlie Fox.
The revival, opening on 24 September, will mark Lohan's stage acting debut.
Mamet's play, which first opened on Broadway in 1988 starring Madonna, satirises the Hollywood film industry.
Lohan will play the role of Karen, a temporary secretary who puts the relationship of producers Gould and Fox under strain.
The actress told the BBC last month she felt "very lucky and excited and nervous" to be making her stage debut in the UK.
"There's a different standard to it here. It seems more prestigious. It seems a bit more serious and that's something that I really want to experience," she said.
Schiff previously appeared in the West End in Underneath the Lintel and Smash and starred opposite Al Pacino in Mamet's Glengarry Glen Ross on Broadway.
Lindsay recently appeared in the West End productions of Guys and Dolls and Shrek: The Musical, for which he received an Olivier nomination.
The revival of Speed-the-Plow will open at the Playhouse Theatre and will run until 29 November.