Countryfile presenter Charlotte Smith set for return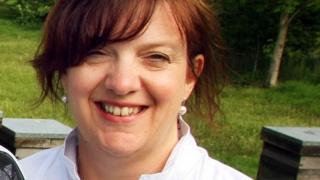 Former Countryfile presenter Charlotte Smith is to return to the BBC rural affairs programme after being dropped in 2009 amid claims of ageism.
Smith was one of several older female presenters, including Miriam O'Reilly, who lost their jobs when the show moved to a prime time Sunday evening slot.
The 49-year-old will cover for reporter Tom Heap while he is on holiday for two weeks from 7 September.
Smith also currently presents BBC Radio 4's Farming Today.
Countryfile was re-launched in 2009 with a number of new presenters including Matt Baker and Julia Bradbury, who has since left the show.
Smith was axed along with Michaela Strachan, Juliet Morris and O'Reilly who, in 2011, won an employment tribunal against the BBC on the grounds of ageism.
While giving evidence, Smith told the tribunal she had once light-heartedly suggested she could fill in on the show when it had found itself short of presenters.
However, she was told by a member of the Countryfile production team she was "not young or pretty enough" to pass the "primetime test".
When asked if it could have been an "ironic response" to her suggestion, she said: "It's possible but I honestly don't think that was how it was meant."
Smith's return comes after the BBC Trust set targets for the corporation to put more women on air "as a matter of urgency".
The BBC has already made a commitment for 50% of local radio stations to have a female breakfast presenter by the end of the year.