Grateful Dead guitarist Bob Weir cancels concerts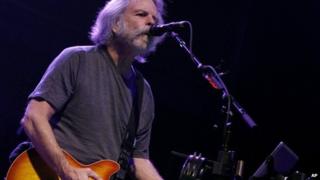 The former Grateful Dead rhythm guitarist, Bob Weir, has cancelled a series of concerts due to start on Thursday.
A statement on Ratdog Live, his band's website, said "circumstances have necessitated" the move.
The 66-year-old had been due to play a one month tour in the US, plus a concert in Jamaica in January 2015.
Last year he cancelled a run of gigs with his other band, Furthur, after an onstage fall.
He had to be helped off stage at the concert in April 2013, before returning to finish playing the Grateful Dead song, Unbroken Chain.
But he didn't see out the performance.
'Important guy'
Furthur had been booked to play a US music festival in September, but the band's Facebook page posted the same cancellation message which appeared on RatDog's website.
Weir's former manager, John Scher told Rolling Stone Weir had "been having health problems for a while", but "there are plenty of people who support him and want to help him get the care he needs".
"He's an extremely talented and very underrated musician, he's an important guy," Scher said.
Weir started playing in the band that would evolve into the Grateful Dead as a 16-year-old in 1963.
Starting out with co-founder Jerry Garcia as Mother McCree's Uptown Jug Champions, the band was later renamed The Warlocks before settling on its eventual name.
RatDog became Weir's main band after Garcia died in 1995.