Charles Keating, Shakespearian actor and soap star, dies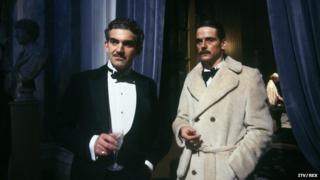 Shakespearian actor Charles Keating, who won a Daytime Emmy award for his role in the US soap Another World, has died of cancer aged 72.
His co-star from the show Alicia Coppola revealed the news on Twitter, saying she was "so very sad".
He played the villainous Carl Hutchins in Another World between 1991 and 1999.
Born in London, Keating performed with the Royal Shakespeare Company and appeared in UK TV shows including Brideshead Revisited and Crown Court.
He also appeared in American soap operas As the World Turns and All My Children.
"Along w/@LindaDano he was my very first acting teacher. The actress I am is because of them," Coppola said.
The actress added watching footage of them acting together "brings me to tears but so honoured to have learned from the best".
Keating first found success on the stage and returned to theatre throughout his career.
In 1986 he was nominated for a Tony award for his work in the revival of Loot on Broadway alongside Zoe Wanamaker.
In the UK, he appeared on Crown Court for seven years in the 1970's as James Elliot QC before starring in the 1981 classic ITV series Brideshead Revisited playing Rex Mottram.
His career also took him onto the big screen with roles in The Bodyguard, Awakenings and The Thomas Crown Affair.
Keating's last film role was in 2005 when he appeared in Deuce Bigalow: European Gigolo alongside actor and comedian Rob Schneider.
"My dear friend, the great Shakespearian actor Charles Keating has passed away this week," Schneider tweeted.
"We will always love you...and I miss you already!"
He was also mourned by fans of TV fantasy Xena: Warrior Princess, in which he played Zeus, who shared their memories of meeting Keating at fan conventions.
"What a wonderful human being you were, and how you were well loved by your Xenaverse Family. Your Xenaverse family will miss you," one fan said.
The actor leaves behind his wife, Mary, and two sons.