Tributes paid to film producer Menahem Golan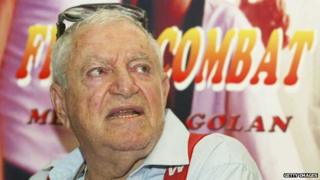 Tributes have been paid to the Israeli producer Menahem Golan, best known for 1980s action films such as Bloodsport, Missing in Action and The Delta Force, following his death at the age of 85.
"RIP, Menahem Golan," tweeted Belgian action star Jean-Claude Van Damme. "I love you and will always do."
Chuck Norris also paid tribute to the film-maker, saying Golan's "faith" in him had enabled his movie breakthrough.
Golan, who died on Friday in Tel Aviv, produced more than 200 movies.
With his cousin and partner Yoram Globus he established The Cannon Group, a production company renowned for low-budget exploitation films with high body counts.
They included Sylvester Stallone's films Cobra and Over the Top, which Golan also directed, and four sequels to Death Wish starring Charles Bronson.
Golan and Globus also produced more ambitious fare, such as Superman IV: The Quest for Peace with Christopher Reeve, a film of the Verdi opera Otello and Jean-Luc Godard's 1987 adaptation of King Lear.
Known in the industry as the "Go-Go Boys", the pair co-owned Elstree Studios in Hertfordshire for a time and operated the Cannon (formerly ABC) cinema chain.
Born Menahem Globus in 1929 in the former British mandate of Palestine, Golan was a pilot and bombardier in Israel's war of independence in 1948.
He went on to study at the Bristol Old Vic Theatre School and the London Academy of Music and Dramatic Art (Lamda).
He and his cousin began producing films for the Israeli market in the 1960s before buying the Cannon Group in 1979.
They went on to enjoy a decade of success but were eventually forced to sell their company because of mounting debts.
A documentary about Cannon Films screened at this year's Cannes Film Festival, while another will have its premiere at the Toronto Film Festival next month.
Golan was remembered by Israel's culture minister Limor Livnat as "a colourful and special person who will forever be remembered in Israeli culture".
British film-maker Edgar Wright also paid tribute, tweeting that Golan was "no longer with us" and that the Cannon logo should be flown "at half mast".
The Hollywood Reporter quoted Globus, 72, as saying he was "in complete and utter shock" and that he could not "come to grips with the news".