Mixed reviews for BBC One gymnastics show Tumble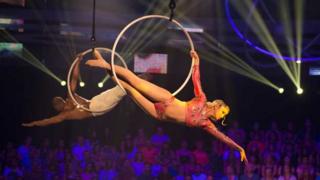 Tumble, BBC One's new gymnastics-themed talent show, has received mixed reviews following its Saturday night launch.
According to one critic, the show, in which 10 celebrities seek to impress a judging panel with gymnastic and aerial routines, "lacked distinctiveness".
Yet the Telegraph's Gerard O'Donovan nonetheless predicted it would "grow in strength and confidence as it goes on".
The Daily Mail's critic, however, was unimpressed, saying it proved reality television had "hit a new low".
Tumble, wrote Jim Shelley, "treated the viewers as if they were either young kids or just idiots".
He went on to call the programme "criminally unimaginative", "unintentionally amusing" and full of "tired" cliches.
"The main thing that is going to be taking a 'Tumble' is the ratings," he concluded.
Ex-Girls Aloud singer Sarah Harding, former Dynasty actress Emma Samms and one-time Blue Peter presenter Peter Duncan are among the familiar faces taking part in the contest.
Sugababes member Amelle Berrabah and former EastEnders actor John Partridge are also competing alongside Loose Women's Andrea McLean and boxer Carl Froch.
Exercise instructor Mr Motivator, real name Derrick Evans, had to pull out last month after dislocating his knee in rehearsals.
The celebrities' efforts are assessed by judges that include Olympic gymnast Nadia Comaneci, Strictly Come Dancing champion Louis Smith and gymnast turned broadcaster Craig Heap.
The Mirror's Mark Jefferies found their contributions "a little stiff", suggesting Smith "seemed to be lost for words - or realistic sentences".
"The judges could be sharper, perhaps a bit spikier and have fun with it," he continued. "They need to remember this is not a proper gymnastics competition for a world title but a bit of fun on the telly."
Overall, though, he said the show would succeed "if everyone just loosens up a bit" and it was "given a few weeks to settle in".
Tumble's launch on BBC One drew an average audience of 3.2 million, according to overnight figures - a million less than tuned in later that evening for a repeat of Mrs Brown's Boys.