True Detective creator and HBO blast plagiarism claim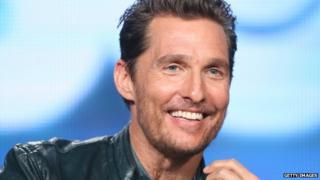 The creator of hit US TV drama True Detective has denied claims that dialogue from its main character has been copied from pre-existing work.
Writer Nic Pizzolatto said "nothing in the show is plagiarised", adding Rust Cohle's thoughts "are not unique to any one author".
A blog post contended that his words are "borrowed" from other authors, particularly Thomas Ligotti.
Broadcaster HBO called True Detective "a work of exceptional originality".
"The story, plot, characters and dialogue are that of Nic Pizzolatto," the network's statement continued.
"Philosophical concepts are free for anyone to use, including writers of fiction, and there have been many such examples in the past."
"We stand by the show, its writing and Nic Pizzolatto entirely," HBO concluded.
Pizzolatto maintains that his talented but troubled chief protagonist, played by Oscar-winning actor Matthew McConaughey, is an "autodidact pessimist" who "speaks toward that philosophy with erudition and in his own words".
"The ideas within this philosophy are certainly not exclusive to any writer," he added.
Blog writer Mike Davis, responding to research carried out by Jon Padgett of the Thomas Ligotti Online website, claimed "exact quotes" by author Ligotti had been used in scripts for True Detective.
He also claimed that Pizzolatto had only acknowledged the work of Ligotti when forced to.
Eight episodes of True Detective were aired in the US earlier this year and met with critical acclaim. The show has been aired on Sky Atlantic in the UK.
A second season of the show is in the pipeline and will contain an entirely new cast.
Various rumours about new stars lined up for the new series include Colin Farrell, Vince Vaughn and Mad Men actress Elisabeth Moss.
In June, McConaughey won a Critics' Choice Award for his portrayal of Louisiana crime fighter Cohle.
He is shortlisted for a best actor in a drama series Emmy along with co-star Woody Harrleson, while Pizzolatto is nominated for outstanding writing in a drama.
It picked up a total of 12 nods for the Emmy Awards, which will be handed out on 25 August.