The Inbetweeners 2 sets box office record on day one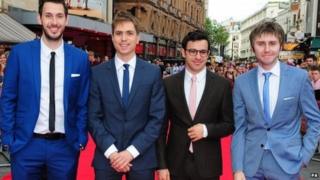 Teen comedy The Inbetweeners 2 took £2.7m on its opening night in UK cinemas - a record for a comedy film.
The box office haul suggests the film might be a bigger success than its predecessor, which made £2.58m on its first day in 2011.
The sequel debuted in 495 venues across the country, and scored the third-highest Wednesday opening for any film.
Only Harry Potter and the Half Blood Prince, and Lord of the Rings: Return of the King have performed better.
The Inbetweeners 2 sees socially awkward school friends Will, Simon, Jay and Neil reunite for an adventure set in Australia.
Creators Iain Morris and Damon Beesley said they had been caught off guard by the success of the first film, and "fan power" had persuaded them to make a sequel.
But they ruled out a third instalment, saying the current film would be the Inbetweeners' "last hurrah".
"It would be nice to go out on top," actor Simon Bird (Will) told the BBC.
"We only considered doing the script because the script was as funny, if not funnier, than the first one."