Grayson Perry designs Essex holiday home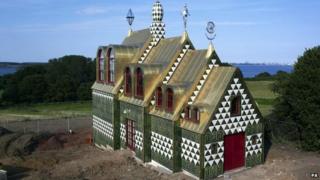 Channel 4 has released the first images of the house artist Grayson Perry is designing in Essex.
Builders have this week removed the scaffolding surrounding the exterior of what Perry describes as a "secular chapel" in Wrabness, Essex.
The house will be revealed in full as part of a Channel 4 show, Grayson's Great Design, in the new year.
The programme will follow the year-long project as Perry struggles to bring the project in on time and on budget.
The artist, who won the Turner Prize in 2003, designed the house in collaboration with FAT Architecture and takes as his inspiration the "single mums in Dagenham, hairdressers in Colchester, and the landscape and history of Essex". It has been causing consternation among local residents.
The property has been funded by Living Architecture, a company formed by philosopher Alain de Botton which aims to create holiday homes in properties with unusual designs.
The building features a tiled facade, with statues and images set into the tiles, and a roof with a brass finish.
The artist has been quoted as saying he toned down his original design, created while "doodling wildly and quite drunkenly in front of the TV".
Politician Chris Huhne, a young female-to-male transsexual, and X-Factor and Celebrity Big Brother contestant Rylan Clark are among the subjects of a new exhibition by Perry, to open at the National Portrait Gallery this autumn.
The 14 portraits, some of which take the form of miniatures, tapestries or statues, will be featured in the three-part Channel 4 series, Who Are You? also to be broadcast this autumn.
Perry, one of Britain's best-known contemporary artists, previously won a Bafta for his Channel 4 series on class.
Update 15 August: This story has been amended to include reference to the architects who worked with Grayson Perry on the house.