BBC to broadcast DEC Gaza appeal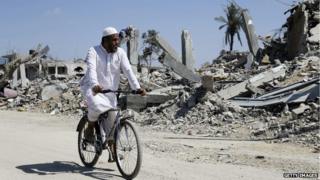 The BBC, along with other UK public service broadcasters, has agreed to air an emergency appeal for people affected by the conflict in Gaza.
It is expected the first Disasters Emergency Committee (DEC) appeal will be broadcast after BBC Radio Four's Today programme on Friday morning.
It is understood the appeal will then be shown after the 18:00 BST and 22:00 BST news bulletins on BBC One.
The DEC appeal will also be shown on ITV, Channel 4, Channel Five and Sky.
However, it is thought the BBC will shoot its own version of the emergency appeal, rather than take the version offered by the DEC.
The BBC and Sky chose not to broadcast a previous DEC Gaza appeal in 2009.
The BBC's decision prompted angry protests and 40,000 complaints.
At the time, the BBC said it did not show the appeal "because of question marks about the delivery of aid in a volatile situation and also to avoid any risk of compromising public confidence in the BBC's impartiality".
The BBC Trust later backed the stance of former director general Mark Thompson, but said the BBC and other broadcasters should look again at their agreement with the DEC on when appeals should be screened.
'Careful consideration'
In a statement, the BBC said it had taken "three issues" into consideration after being asked to broadcast the appeal for humanitarian assistance for civilians in Gaza.
"The disaster must be on such a scale and of such urgency as to call for swift international humanitarian assistance; the DEC agencies must be in a position to provide effective and swift humanitarian assistance at a scale to justify a national appeal; and, there has to be reasonable grounds for concluding that a public appeal would be successful," it said.
"We also have to consider our Charter obligation of due impartiality. After careful consideration we believe these criteria have been met.
"The humanitarian need in Gaza has been widely acknowledged, including by the Israeli government, and the DEC has given assurances that aid can reach those who need it.
"The BBC will continue to report impartially in our coverage of the story in the Middle East."
Sky made a similar statement, saying "we judge each appeal request on merit and will run the current campaign on Sky 1".
The BBC understands the broadcaster will not show the appeal on its Sky News channel, which is available internationally, in case it compromises the safety of the organisation's reporters in the Middle East.
Israel-Gaza conflict
8 July
Israeli offensive began
4,760+ air strikes on Gaza

3,488 rockets fired at Israel

1,973 people killed in Gaza

UN estimates +70% of deaths are civilians

3 civilians killed in Israel

64 Israeli soldiers killed
AP
More than 1,800 Palestinians, mostly civilians, and more than 60 Israelis, mainly soldiers, have died in the current conflict.
An estimated 520,000 have fled their homes in Gaza following air strikes and rocket fire.
The DEC, an umbrella organisation which brings together 13 UK aid charities to deal with international crises, said donations were already being accepted through its website and a 24-hour phone line.