Portlandia's Carrie Brownstein to finish Lost in Austen script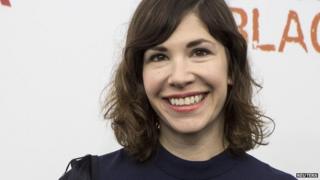 Portlandia star Carrie Brownstein is to complete Nora Ephron's unfinished big screen US adaptation of ITV series Lost in Austen.
Ephron took on the project in October 2011, before she died of leukaemia in June 2012.
The film will follow a modern New York woman who is transported back in time into the fictional world of Jane Austen's Pride and Prejudice.
Gemma Arterton starred in the original 2008 ITV drama as Elizabeth Bennett.
When it was first announced Ephron was penning the script, Arterton was attached to reprise her role as Austen's character. It is not known if she will still appear.
Oscar winning American Beauty director Sam Mendes will produce.
The film will be Brownstein's first feature writing project since creating and writing US sketch show Portlandia, set in Portland, Oregon.
She is also due to appear in Amazon original comedy Transparent, and romantic drama Carol, opposite Cate Blanchett and Rooney Mara.
"Carrie is smart and funny and original, and the project is very lucky to have her," Mendes said.