US Gotham series set for Channel 5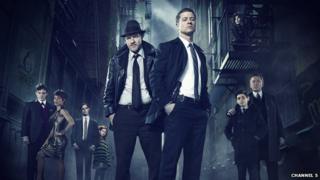 US drama Gotham, billed as a prequel to the Batman story, has been acquired by Channel 5 in the UK.
Starring actors such as Jada Pinkett Smith, the drama premieres in the US on 22 September. There is no definite transmission date for the UK as yet.
The series focuses on James Gordon (Ben McKenzie) who later becomes police commissioner and Batman's confidante.
Bruce Wayne, the superhero's alter-ego, will be seen as a recently orphaned 12-year-old, played by David Mazouz.
Gordon is charged with solving the murder of Wayne's parents and a feeling of kinship develops between him and the young billionaire, the sole survivor of the incident.
"I don't think there was a more exciting show at the LA screenings this year," said Katie Keenan, Channel 5's head of acquisitions. "Gotham is a thrilling drama built on iconic characters that fascinate.
"Channel 5 is delighted to become the home of such a powerful, bold and visually stunning show."
Pinkett Smith plays gang boss Fish Mooney, while the show will introduce many of Gotham's villains on their journey to infamy.
The Walking Dead's Robin Lord Taylor plays Oswald Cobblepot, also known as The Penguin; Carmen Bicondova will be Selina Kyle, aka Catwoman; while Cory Michael Smith portrays Edward Nygma, or The Riddler.
British actor Sean Pertwee plays butler Alfred Pennyworth, who brings up Wayne following the murder.