My Night With Reg returns 20 years on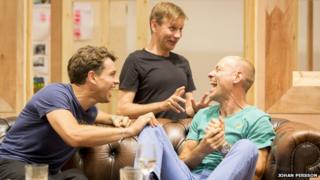 My Night with Reg was one of the big hits of London theatre in the 1990s. Now the Donmar is reviving the comedy, only weeks after the death of its writer Kevin Elyot. His play follows the complex relations between six gay men starting in the mid-1980s. But the director and cast say it's about a lot more besides.
Jonathan Broadbent's first contact with My Night with Reg was when he auditioned for the director Robert Hastie and playwright Kevin Elyot. He recalls that Elyot was clearly protective of what most critics consider to be his finest work.
Having secured the role, the actor's next task was to read a scene from the play at Kevin Elyot's funeral service at St Paul's church in Covent Garden. After a long illness, the writer died in June this year at the age of 62, just as rehearsals were to begin.
Broadbent plays Guy, seemingly the only one of the play's six characters who has missed out on new sexual freedoms available to gay men in 1980s London. The performance is richly comic but, like everything in the play, tinged with sadness and regret for missed chances.
Though the character Reg never appears the audience learns a lot about his past sexual and romantic links to the characters on stage.
"At one point in rehearsals we tried to work out who and what Reg had been," Jonathan Broadbent says. "But part of the point of the play is that everyone has a different view of him.
"In the end we decided Reg might have been a wine-waiter, which is maybe how he became part of the circle around John (played by Julian Ovenden) who my character has been hopelessly in love with for years. But Kevin's script is full of ambiguity - there's lots the audience never discovers."
Director Robert Hastie confirms that Elyot took a keen interest in plans for the revival.
"I'm 37 and I've wanted to direct this play pretty much since the Royal Court did it in 1994. Or given that I started out as an actor I suppose really I wanted to be in it.
"For the past few years I was sure there would be a big revival somewhere. I looked forward to it and at the same time I desperately wanted to direct it myself. So when I had an opportunity to direct at the Donmar, this play was at the top of my list.
"We approached Kevin through his agent but I also wrote a personal letter and we had a meeting over dinner. Of course the dinner was essentially an audition and Kevin didn't hesitate to be imperious. He was sitting back and saying: 'Okay, impress me.'
"At one level he wanted to test out if I would direct the kind of revival he wanted. But I think he also enjoyed the tussle of someone proposing an alternative approach to staging.
"In fact we haven't changed a word. The play is about time and about time passing: I didn't want to meddle with that. These characters met in the 1970s and then we pick up their stories in the mid-1980s. So even in 1994 the setting was a period one.
'Gay play'
"It's usually described as a gay play and it is," he continues.
"A growing awareness of Aids is part of the story - how could it not be, given the years it covers?
"In 1994 no one really knew what would happen with the health crisis. Yet Kevin never uses the term Aids in his script. Like all superb writers for the stage he avoids stating the obvious: That's the play's power."
At 26, Lewis Reeves is already building a healthy career on TV. He appears in BBC Three's new Our World War. At the Donmar he's playing Eric, the attractive young decorator from Birmingham who ends up in a relationship with the wealthy John.
"It's a terrific play which I hadn't encountered before I was offered the role. When I read it I thought it was a really warm piece which also addresses tough issues like love and friendship and fear with real honesty. It's a gay play but it's more than that.
"We meet Eric between the ages of roughly 18 to 24 and he's a lovely, noble, naive lad from Birmingham. He's in London to try to find himself but I think you can see that, 20 years on, he would be far tougher and maybe turn into a bit of a monster the way the older character Daniel already has done. The fact there's such depth of character is a huge tribute to Kevin."
Daniel is played by Geoffrey Streatfeild as a witty, occasionally outrageous character who is masking deep loneliness and a fear of what the second half of life will bring.
"There's real quality to Kevin Elyot's lines," he says. "The dialogue is so economical and quicksilver. Rhythmically it's incredibly potent and there's a music to it. It can change direction in a flash. It's thrilling to speak as an actor."
The play deliberately doesn't signpost when it skips back or forward in time. Instead, it moves fluidly through its characters' lives, trusting the audience to follow.
"I think audiences are ahead of a play more often than we acknowledge," Streatfeild says. "If it's well-structured the audience will get it - and this play is superbly structured.
"Kevin Elyot maintains a huge amount of comedy throughout. But there's also a tremendous sadness. It's a rare and masterful thing and the intimacy of the Donmar is perfect for both.
The Donmar set and the use of music are both subtly 1980s without sending the era up.
Robert Hastie says he and designer Peter McKintosh decided to stick to vinyl for the music on view in Guy's flat.
"In fact, we had to coach a couple of the actors in how you drop a stylus onto an album convincingly. Possibly it's a lost art."
My Night with Reg is at the Donmar Warehouse, London, until 27 September