More buck for your Big Bang Theory: What justifies a $1m pay packet?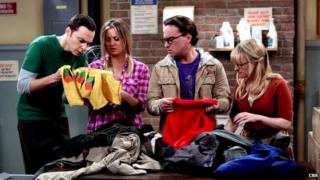 The principal cast of US sitcom The Big Bang Theory have tripled their pay-packets, negotiating reported salaries of $1m (£600,000) per episode after organising a walk-out during the first week of production.
"They earned it," the show's creator, Chuck Lorre, told Entertainment Weekly. "It's a great cast. It's their time.
"Everybody should be very successful and happy and rich."
And rich they will be: With The Big Bang Theory commissioned until 2017, the show's three biggest names, Jim Parsons (Sheldon), Johnny Galecki (Leonard) and Kaley Cuoco (Penny) are guaranteed to earn $72m (£42.6m) each over the next three seasons.
Their co-stars Mayim Bialik (Amy) and Melissa Rauch (Bernadette) have also secured pay rises, albeit for substantially lower salaries. Simon Helberg (Howard) and Kunal Nayyar (Rajesh) are expected to sign new deals later this week.
Unsurprisingly, the cost of producing the sitcom has spiralled.
TV network CBS is paying about $4m (£2.3m) per show before factoring in the cast's pay - that's more than a single episode of Doctor Who costs the BBC - but the actors went into negotiations knowing they had the upper hand.
The series, about four nerdy men and the women who tolerate them, is a ratings smash, averaging 21.3m viewers per episode last year.
Not only is it the highest-rated comedy in the US, but it is head and shoulders above its rivals. The closest competitor, Modern Family, has a weekly audience of 14.5m.
Equally importantly, the geek-com scores well with younger viewers. Excluding sports, it is the number one show for both 12 to 17-year-olds and 18 to 34-year-olds, and that draws in lucrative advertising dollars.
So the pay deal is "a studied appreciation of the show's potential for enduring popularity," says Toby Earle, TV critic for London Live.
"In the short term there might be a financial dip in the money made from that programme - but if you look at global sales and syndication, they'll make that back.
"Over a period of time, what seems like a huge outlay will be dwarfed by what they recoup."
Highest-paid TV stars
Salary per episode
$1.8m for Charlie Sheen - Two and a Half Men (2010)

$1.7m for Ray Romano - Everybody Loves Raymond (2003)

$1.6m for Kelsey Grammer - Frasier (2002)

$1.25m for Tim Allen - Home Improvement (1998)

$1m for the main cast of Friends (2002) and Big Bang Theory (2014)
GETTY IMAGES
The pay deals have inevitably been compared to those of the cast of Friends, who also got $1m per episode in 2002 - or $1.46m (£865,000) in today's money.
Their pay packets actually ended up costing TV network NBC, who made a loss on the sitcom's final series, despite charging $473,500 (£280,000) for a 30-second advertising slot.
But Ross and Rachel's bosses could take the financial hit because they knew the audience would stick around for the next show, and the one after that.
"You can't pay too much for a hit show, although networks don't like to tell that to producers," Tim Brooks, co-author of The Complete Directory of Prime Time Network and Cable TV Shows told the Los Angeles Times as the Friends juggernaut came to a halt in 2004.
"At one point, Little House on the Prairie paid for the entire prime time NBC schedule, so one show can make a tremendous difference."
And hit shows keep making money long after the cast moves on to bigger and better (or smaller and worse) projects.
Once a threshold of 85-100 episodes is reached, a show can be sold into syndication, running in perpetuity on smaller cable channels.
"A really good example of this is Seinfeld, which has made about $3bn over the years in syndication," says Toby Earle.
"Larry David and Jerry Seinfeld have pocketed $400m each through syndication rights alone."
The Big Bang Theory reached the syndication threshold in 2011, and it is consistently the most-watched re-run on US television. Not only that, but when the repeats started screening on the TBS network, viewing figures for the new episodes jumped by 21%.
It's worth noting that the star's agents have negotiated a larger share of those syndication profits as part of their new contracts, too.
So how has The Big Bang Theory come to dominate the sitcom field?
If you look at the Emmys, it's apparently not a beloved show - consistently coming second to The Office, Modern Family and 30 Rock in the best scripted comedy category.
But unlike all of those shows, it's a broad, traditional sitcom, filmed in a studio with multiple cameras and a laughter track.
It employs several familiar tropes, from Penny and Leonard's will-they-won't-they relationship to the "odd couple" set-up of room-mates Sheldon and Leonard.
But Ken Levine - a writer on M*A*S*H and Cheers - says it all comes down to the quality of the writing.
"Big Bang Theory makes you laugh. They have jokes, jokes that are funny," he wrote on his blog.
The secret, he continued, is hard work. "Shows like Big Bang Theory don't assign scripts to individual writers. The entire staff sits around a table and cobbles the draft together."
But Toby Earle is less complimentary about the show's success.
"It's pretty unthreatening," he says. "The funny thing for me about Big Bang Theory is that, on the surface, it celebrates nerd culture - but for me, it's taking the mickey out of these people.
"It's saying 'we might not be that smart, but look at these guys, aren't they socially awkward and somewhat embarrassing? They can't even get girlfriends and when they do, they're kind of weird!'
"Don't get me wrong, this programme is clearly doing something very right, but we're not talking about something smart - ironically enough, given its topic."
In other words, for all of the jokes about particle physics and obscure Star Trek references, the show is more familiar than your facecloth - something its newly-wealthy star readily admits.
"There's not anything to keep up with," Parsons told New York Magazine earlier this year.
"You don't go, 'I didn't see the first three seasons, and now they're off with prostitutes, and they no longer work in the Mafia, and I don't understand what happened'.
"People have so many choices on TV now, so no one's asking for you to marry us. You can enjoy our show without a weekly appointment."