New ENO music director pledges to take risks despite cuts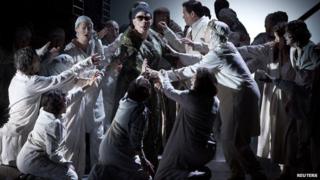 The incoming music director of the English National Opera (ENO) has said the company will keep taking risks in spite of funding cuts.
The ENO's last season included a new opera commissioned by the company, plus 10 new productions of existing works.
But its annual Arts Council England funding has been cut by 29% and it will now stage musicals as well operas.
Mark Wigglesworth said the ENO "can't afford not to take risks" and insisted it would still "do adventurous work".
Wigglesworth will take over from Edward Gardner as the ENO's music director at the end of the 2014/15 season.
"It's perfectly healthy to engage 100% of the time in the finances of the company, but you also have to engage in the artistic ambitions of the company," he said.
The company will see its annual Arts Council of England grant drop from £17.2m in 2014/15 to £12.4m in the subsequent financial year.
Explaining the cut, the Arts Council said that despite the "indisputably ambitious quality of work", the ENO had "struggled to reach box office targets and achieve long-term stability".
Describing the reduction in funding as "depressing", Wigglesworth said he was nonetheless "excited at the possibility that ENO offers".
"Nobody wants ENO just to survive. They want it to survive so that it can continue to do adventurous work," he said.
"When you are adventurous, inevitably some risks aren't going to come off.
"It's our job to balance that risk... and make sure that there are enough sure-fire successes surrounding the risks to make sure that the company stays buoyant financially and artistically."
Wigglesworth added that the introduction of modern musicals into the ENO's output would help make the best of the company's building, the Coliseum in central London, and would not mean it staged any fewer operas.