Lights go out to mark World War One centenary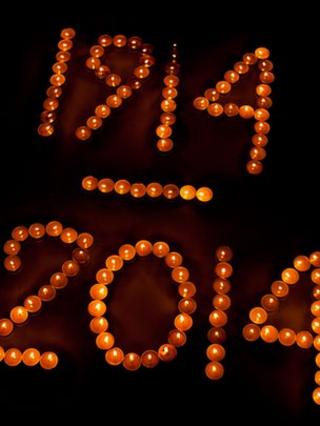 An hour's darkness is set to mark 100 years since the beginning of World War One, with artists taking a pivotal role in Monday's commemorations.
Turner Prize winner Jeremy Deller has created an app featuring an hour-long film - the duration of the period of darkness, from 2200-2300 BST.
Public buildings and individuals are being encouraged to switch off the lights and burn candles of reflection.
Organisers hope millions of people will participate across the UK.
Britain declared war on Germany on 4 August 1914.
"We are putting art and culture at the very centre of the whole project," said Tamsin Dillon, curator of Lights Out.
"It is about marking the moment that Britain joined World War One with the idea of a single source of light replacing all other kinds of light."
Four leading international artists have been commissioned to create public artworks in Scotland, Wales, Northern Ireland and England.
India's Nalini Malani has made a large-scale video installation to be projected onto the facade of the Scottish National Gallery in Edinburgh.
In Wales, artist Bedwyr Williams' light and sound installation will be presented at the site of the World War One North Wales Memorial Arch in Bangor.
The artist known as Bob and Roberta Smith is working on a large-scale work using thousands of candles to spell out a statement that will take over the lawn in the grounds of Belfast's City Hall.
In London, a special project will be unveiled on Monday night as part of the event.
"These works represent the diversity of contemporary artists working today," Ms Dillon said.
Watch Jeremy Deller's films on the BBC Arts site
The Lights Out campaign was inspired by foreign secretary Sir Edward Grey, who famously declared on the eve of the declaration of war in 1914: "The lamps are going out all over Europe, we shall not see them lit again in our lifetime."
Listings for Lights Out events around the country can be found on the website of 14-18 NOW, the organisation behind bringing together culture and the World War One centenary.
Public bodies including the BBC have pledged to dim their lights for an hour on Monday night, while landmarks including the Houses of Parliament, Blackpool Tower and the Imperial War Museum North in Manchester will switch off.
A number of theatres, including all productions of the National Theatre's War Horse around the world, will invite audiences to participate in Lights Out at the end of evening performances.
At London's Royal Albert Hall, at the end of the Late Night Prom, which features the posthumous world premiere of John Tavener's Requiem Fragments, the audience will be given lights and invited to turn them on while actor Samuel West gives a reading.
An hour-long candlelit vigil to mark the centenary will also take place in Westminster Abbey.