Daniel Radcliffe cancels Mexico appearance over crowds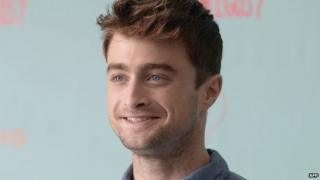 Actor Daniel Radcliffe's appearance at a red carpet event in Mexico City has been cancelled due to overcrowding.
The country's distributors of his film What If had to call off the event because too many fans came to a shopping mall before his appearance.
Diamond Films said local authorities ordered the suspension, which they said was "out of our control".
Thursday night's premiere of the movie went ahead, but without the star-studded red carpet.
Radcliffe was able to attend an earlier photoshoot before the event in the Mexican capital.
The distributors of What If - which is due to open in US cinemas on 8 August - added that they had "appreciated the response and enthusiasm for this event".
The romantic film, which is directed by Michael Dowse, also stars Zoe Kazan and is known as The F Word in some countries outside the UK and US.
It received its premiere at the Toronto Film Festival in September.