Secret Cinema's Back to the Future to begin a week late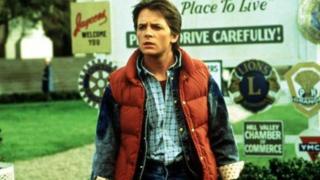 Secret Cinema's screenings of Back to the Future are to begin in London on Thursday, one week late.
Organisers were forced to cancel the opening week of screenings because they could not meet technical requirements to satisfy local authorities.
"We are extremely sorry for the delayed communications of last week," a Secret Cinema statement said.
"We know we let our audience down and will do everything we can to make it up to them."
For the event, Secret Cinema has built elaborate sets featuring replicas of buildings from the 1985 film and has planned live performances using around 80 actors.
The series of screenings was due to begin on 24 July, but the first four nights were cancelled because "we weren't able to get to the position in which we were able to open with the local authorities happy", founder Fabien Riggall said.
"Secret Cinema is a very different kind of experience to a normal concert or show, and it has taken longer to demonstrate to [the authorities] so they are happy," Mr Riggall told BBC News on Friday.
Many fans were left angry by the short notice given for the initial cancellations. Audience members were told not to take their mobile phones, and so many complained that they did not find out about the cancellation until arriving at the venue.
At £53.50, ticket prices reflect the extra sets and performances that make the event more immersive than an ordinary film screening.
Secret Cinema said those with tickets for the cancelled nights could attend another screening or get a refund.
Additional refunds in excess of ticket charges for those who travelled from overseas are being considered on a case-by-case basis.