Goldfinch novel by Donna Tartt set for big screen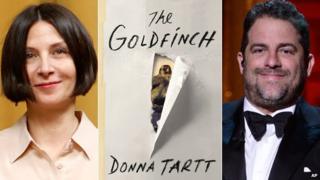 Donna Tartt's best-selling novel The Goldfinch is set to fly off the page following the acquisition of movie rights by the Warner Bros studio.
Rush Hour director Brett Ratner will co-produce the adaptation with Brad Simpson and Nina Jacobson, Bafta-winning producer of The Hunger Games.
Tartt's novel, her third, won the Pulitzer Prize for fiction in April.
It tells of a young boy who steals a priceless Dutch painting from New York's Metropolitan Museum of Art.
The boy's story and the fate of the painting - The Goldfinch by Carel Fabritius - become entwined over the course of the novel's subsequent two-decade narrative.
Popular with critics and readers alike, The Goldfinch was named Amazon's 2013 book of the year and has been on the New York Times bestseller list for 39 weeks.
To some people's surprise, though, it was left off this year's Man Booker longlist, despite its organisers' decision to allow non-British authors to be eligible for the prize.
Warner Bros previously bought the rights to Tartt's debut novel The Secret History, though a film version has yet to reach the screen.
Ratner's other films include a 2002 adaptation of Thomas Harris's novel Red Dragon and the recently released action adventure Hercules.
Fabritius's original artwork, painted in 1645, currently hangs in the newly renovated Mauritshuis art museum in The Hague.