Sunshine sees Womad's record sellout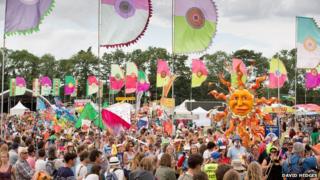 Wiltshire's annual Womad festival, which ended in the early hours of Monday morning, attracted a capacity crowd for the first time since relocating from Reading in 2007.
Over the festival's four days 40,000 people attended, making it second only to Glastonbury in the west of England.
There were 184 performances by 106 artists from 42 countries.
Womad director Chris Smith attributed the sellout to "the excellent weather and a strong line-up".
'Mother festival'
Irish singer Sinead O'Connor was a last-minute replacement for the late soul legend Bobby Womack as the closing act at this year's festival.
The American singer, songwriter and guitarist died aged 70 last month.
From just £8 a ticket at the Royal Bath and West Showground in 1982, Womad now runs 160 festivals in 27 countries.
The organisation's "mother festival" has been held on the Charlton Park Estate near Malmesbury since 2007.