Sir Richard MacCormac, award-winning architect, dies at 75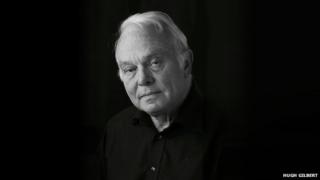 The renowned architect Sir Richard MacCormac has died aged 75 after a long illness.
A fellow of the Royal Society of Arts and a former president of the Royal Institute of British Architects (Riba), Sir Richard had been suffering from cancer.
He founded his own practice MacCormac, Jamieson, Prichard (MJP) in 1972.
Jeremy Estop, managing director of the company, paid tribute calling him "the architect's architect".
"Whilst many architects achieve great success, few achieve distinction in all facets of architecture as Richard did," he said.
"In design, as one of the pre-eminent architects of his generation; in education, as an inspirational university professor; in the profession, as president of the Royal Institute of British Architects; as a Royal Academician; as a writer of many articles on architecture; and as an insightful adviser to many distinguished organisations.
"He was able to 'speak' through design, but also with a rare gift with words, allowing him to lucidly articulate architectural ideas and philosophy."
Estop, who worked with MacCormac for more than 20 years, said he "wore his intellect lightly, constantly perspicacious, but always ready with an anecdote or joke".
"He was eager to exchange ideas with everyone regardless of age or experience."
Widespread recognition
Born in Marylebone, London, in 1938, Sir Richard came from a renowned medical family. He trained at Cambridge, where he later taught, and the Bartlett School of Architecture at University College London.
He worked on housing schemes for a local authority in London before starting his own practice where he gained widespread recognition for his work on university buildings.
Among his award-winning buildings include the Garden Quadrangle at St John's College Oxford, the Ruskin Library at the University of Lancaster and the Burrell's Fields at Trinity College, Cambridge.
Other public buildings he worked on were the Wellcome wing of the London Science Museum and Southwark underground station.
He was also involved in the design of the new BBC Broadcasting House but left the company in 2011 before the project was finished to set up his own consultancy.
Riba president Stephen Hodder was among those paying tribute on Twitter.
"Sad news rec'd this evening Richard MacCormac lost his brave fight against cancer. Wonderful architect, human being and PPRIBA. Fond memories," he said.
The Observer's architecture critic Rowan Moore called him "a serious architect, who stood for civilised buildings.
"He did something important, at a time when modern architecture seemed to be falling apart, which was to apply its principles in a new way."
Hugh Pearman, arts writer and editor of the Riba Journal said he was "a fine, fiercely intelligent architect, passionate, and a cherubic giggler".
Sir Richard lived with the author Jocasta Innes for 30 years in London's Spitalfields until she died in 2013.
Earlier this year he published a book entitled Two Houses In Spitalfields as a record of the life he shared there with Innes.
He is survived by one son from his first marriage.