Secret Cinema: Back to the Future weekend shows cancelled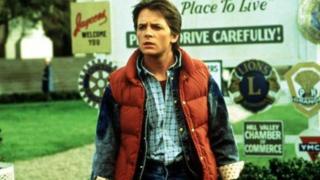 Secret Cinema organisers have cancelled both weekend screenings of Back to the Future, after ongoing difficulties with hosting the immersive cinema event.
Founder Fabien Riggall told the BBC News website he had not been able to meet technical requirements to satisfy local authorities.
He said he had been "fighting" to open on time and it was "absolutely heartbreaking" to disappoint fans.
"We are working tirelessly to get this show going," he added.
Riggall said the company was working with the local council "constructively" to understand the complexities of the immersive experience - which includes building a replica of Hill Valley, the fictional town in which Back to the Future is set.
"We've built an ambitious show and we weren't able to get to the position in which we were able to open with the local authorities happy," he said, adding that thunderstorms in London last week had hindered production on the outdoor event.
"Secret Cinema is a very different kind of experience to a normal concert or show, and it has taken longer to demonstrate to [the authorities] so they are happy.
"I completely and utterly understand how angry and frustrated people must feel. This is the first time in 10 years of doing these shows we've not been able to get there."
The decision to cancel the weekend screenings came after three previous events were called off, with ticketholders given only a couple of hours' notice.
Acknowledging the anger over these cancellations, Riggall said he was scrapping the weekend screenings in advance to prevent further frustration for fans.
"They'll be incredibly disappointed and I'm hugely apologetic for that but I cannot expect our audience to have to have the same pressure and frustration another day."
"I believe we could open tomorrow, but I don't want to give any more false promises," he added, sounding tearful during a telephone conversation with the BBC.
"I'm not going to allow this to continue and to have people being so upset."
'Wonderful cast'
Addressing concerns the show was not ready following the cancellation of the preview on Wednesday, Riggall confirmed two full dress rehearsals had already taken place.
"From an artistic and creative point of view I was so excited about it - but I'm not excited anymore.
"We've got the most wonderful cast. We've got 80 actors, close to 80 set designers and dressers who've lovingly put the whole town into play.
"I'm devastated that we didn't get there, but it won't stop me being ambitious. What it has taught us in a great way is that I'm never going to let this happen again."
Up to 84,000 tickets have been sold for the event, which is due to run throughout August.
Secret Cinema has offered ticketholders - who paid £53.50 each - the opportunity to attend another scheduled screening date instead, or a refund.
Additional refunds in excess of ticket charges for those who travelled from overseas are being considered on a case by case basis.
Meanwhile, London's Savoy Theatre has told disappointed ticketholders they can turn up at its box office to get a free seat for Dirty Rotten Scoundrels, starring Rufus Hound and Robert Lindsay.
Riggall said he hoped the shows would resume on Thursday 31 July.
Reacting to the news on social media, ticketholder Maeve O'Neill posted on Secret Cinema's Facebook page: "Well done Secret Cinema at last you are taking some responsibility by emailing peeps and cancelling until July 31st."
David Mather tweeted: "Sunday as well now!? Cheers @secretcinema! A fully functioning hover board will be accepted as part apology."
Benjamin John posted after requesting a refund: "Whilst I'm disappointed I won't be going as planned, I'm glad I won't be nervously watching Facebook and Twitter for announcements and updates."