Eels frontman Mark Everett given Freedom of City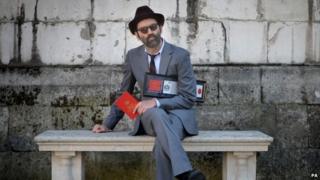 Eels frontman Mark Everett was handed the Freedom of the City of London, ahead of a concert at the Barbican Centre.
The American musician had previously claimed he was mistaken for a terrorist while in the capital four years ago.
"To go from being a suspected terrorist, to having the Freedom of the City is quite amazing," he said as he accepted the honour.
"It shows that anything is possible in London. I love this place."
Everett, who is known as E, was nominated for the award by two of the City of London's senior officials and was surrounded by his bandmates at the ceremony.
The Eels, who formed in 1995, scored their biggest hits with Novocaine for the Soul and Susan's House, both from their debut album, Beautiful Freak.
Previous recipients of the Freedom of the City include Colin Firth, Placido Domingo and Stephen Fry.