Secret Cinema cancels Back To The Future opening night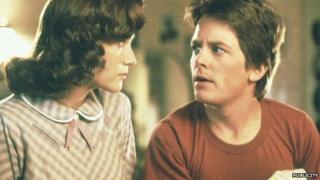 The immersive film-experience company, Secret Cinema, has cancelled the opening night of a special screening in east London of film Back To The Future.
With only a few hours before the show, organisers said they were "unable to receive guests" for the show "due to unavoidable circumstances".
Secret Cinema apologised and said it was "devastated" to announce the cancellation at such a late stage.
Ticketholders, who paid £53.50 per ticket, have reacted angrily.
"I cannot begin to tell you how devastated and disgusted I am," wrote Chloe Marie Smith-Moring on the company's Facebook page.
"Thank you for ruining my husband's birthday and making a pregnant woman cry."
"We have travelled from the Isle of Wight with our two young children," added Rowan Middleton-Leal, from a hotel room he had booked in order to attend the show.
Others had come from even further afield.
"We literally came from Cambodia and won't be around for rescheduled tickets," wrote Matthew Bowen.
"After arriving at Hackney Wick with our hearts set on having the best night of our lives, we are now sat like lemons in a bar, paying for expensive drinks."
"We came from the States with this [planned to be] our big last night," said Logan Sekulow. "We leave and there is nothing we can do. We need an explanation and a refund... and more!"
Some comments were more flippant.
"Couldn't they have used a DeLorean to predict this?" quipped one correspondent, referring to Back To The Future's time-travelling car.
Secret Cinema replied to many of the disgruntled customers, saying ticketholders were guaranteed a place on a different date, and would be given their first choice when they re-scheduled.
It added it was "working tirelessly to make sure that this spectacular event will go ahead tomorrow (Friday) evening".
The company launched in 2007, screening cult films in specially-chosen locations, to reflect the content on screen.
Its first project was Gus Van Sant's Paranoid Park - about a skateboarder who accidentally kills a security guard - shown in a disused railway tunnel.
Other "immersive events" have included versions of Terry Gilliam's Brazil, screened in an abandoned office block; and Wes Anderson's The Grand Budapest Hotel, with guests instructed to attend in 1930s fancy dress.
Phone problems
The productions feature live music, theatre, role-play, food and drink. Ticketholders are kept in the dark about the location, and told to gather at a meeting point before being transported to the venue.
Up to 84,000 tickets were available for its latest production - but audience members had been told to leave their phones at home, meaning many were unaware of Thursday's cancellation until they arrived to see the film.
Lynsey Mellows, from north London, was driving to the show when her friend checked Facebook and read the organiser's statement.
"At first we thought it was a hoax," she told the BBC.
"I think they couldn't prevent people from getting here because they already told people to not bring their phones. It's a big lesson for them to learn; sending 3,500 people to a secret location without their phones."
Mellows added that several people in neon jackets had arrived at the site to try and stop ticketholders from forming in a large group.
"We've been getting ready for weeks, trawling through vintage shops and eBay to get a costume," she said. "Everybody's really disappointed."
It is not the first time Secret Cinema has had a last-minute cancellation. Performances of Brazil were called off in April 2013 after police objected to the licence application for the events.