Venice Film Festival: Birdman leads gala line-up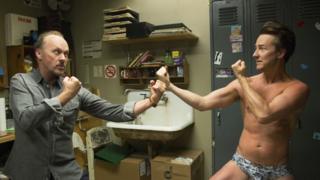 Birdman will head this year's line-up for the Venice Film Festival, which has been announced by organisers.
The film, starring Michael Keaton and made by Mexican director Alejandro Gonzalez Inarritu, will open the gala with its world premiere on 27 August.
Other movies vying for the Golden Lion award include Andrew Niccol's Good Kill and Abel Ferrera's film about Italian director Paolo Passolini.
The festival runs in the Italian city from 27 August to 6 September.
The competition features a selection of cinematic work from around the world, which will be shown to public audiences for the first time.
New films from Turkish director Fatih Akin and Sweden's Roy Andersson are among the line-up, with a smattering of titles from France and Italy.
Other movies from Hollywood's stall to be competitors at the festival include Manglehorn, which stars Al Pacino, while Ramin Bahrani's 99 Homes features British actor Andrew Garfield.
Birdman also features British actresses Andrea Riseborough and Naomi Watts.
A total of 55 films have been announced as part of the official selection - but some will be shown outside of competition.
This includes The Sound and The Fury by Hollywood actor-director James Franco, an adaptation of William Faulkner's novel.
Controversial Danish director Lars Von Trier will also be in Italy to show a lengthier director's cut of Nymphomaniac Volume II, after the original was screened at last year's Berlin Film Festival.
A contemporary take on Shakespeare's Cymbeline, starring Milla Jovovich, Ed Harris and Ethan Hawke is also due to be screened at the event.
The closing film for the festival has been confirmed as The Golden Era by Hong Kong director Ann Hui, which recounts the story of Xiao Hong, a radical writer from the 1900s.
Last year's gala featured the likes of Gravity and Philomena, which went on to enjoy success at the Academy Awards.
But the Golden Lion was scooped by Italian documentary Sacro GRA, the first of its genre to win at the Venice Film Festival.
The most recent UK success at the competition was Mike Leigh's tale of abortionist Vera Drake, which won in 2004.