Fight Club sequel to be published as comic book series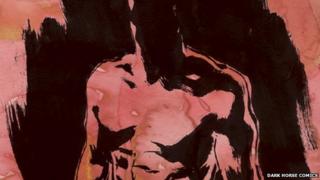 The author of the novel Fight Club has confirmed he will publish a sequel in May 2015.
Chuck Palahniuk's follow up, Fight Club 2, will appear as a series of 10 comic books.
The story continues a decade after the first instalment, which concludes with the unnamed narrator realising his manipulative and aggressive companion, Tyler Durden, is his own alter-ego.
The original novel became a film starring Brad Pitt and Edward Norton.
Palahniuk accidentally revealed that he was working on a Fight Club sequel at a convention in New York last year.
"I messed up and said I was doing the sequel in front of 1,500 geeks with telephones", the author said.
"Suddenly, there was this big scramble to honour my word".
The publisher, Dark Horse Comics, said Fight Club 2 would be set alternately in the past and the future.
In the story, the protagonist is married to con artist Marla Singer, and has a nine-year-old son named Junior.
Palahniuk said readers would also get an idea of Tyler's true origins: "Tyler is something that maybe has been around for centuries and is not just this aberration that's popped into his mind."
The comics will be illustrated by Cameron Stewart.
Palahniuk says the approach will be more "cartoony" because it was better suited to the "density of the story and for some of its more absurdly comical moments".