James Garner: Stars pay tribute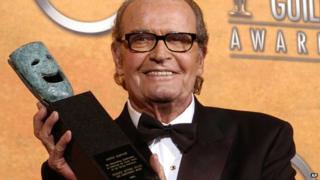 Hollywood stars have paid tribute to actor James Garner, who died on Saturday aged 86.
The star died of natural causes at his Los Angeles home.
Sally Field, who starred alongside the actor in the 1985 romantic comedy Murphy's Romance, said her "heart just broke".
Tom Selleck, who guest-starred in Garner's series The Rockford Files, said: "Jim was a mentor to me and a friend, and I will miss him."
Garner famously played the laconic private investigator Jim Rockford in the long running series which ran for 122 episodes from 1974 to 1980.
He won an Emmy for the role in 1977.
The actor went on to be Oscar-nominated for best actor in 1986 for the romantic comedy Murphy's Romance, co-starring Sally Field, in which he played a small town pharmacist.
"There are few people on this planet I have adored as much as Jimmy Garner," Field added.
"I cherish every moment I spent with him and relive them over and over in my head. He was a diamond.''
"RIP James Garner. Such a lovely man," tweeted Gary Sinise, who worked with the actor on the 1989 film My Name is Bill W.
Oklahoma-born Garner joined the US Army and fought in Korea. He was injured in 1951 and received a Purple Heart in 1983.
His acting career began when he landed a nonspeaking role in the 1954 Broadway production of The Caine Mutiny Court Martial.
In 1963's iconic World War Two film The Great Escape, Garner played flight lieutenant Robert Hendley alongside Steve McQueen, Richard Attenborough and Donald Pleasence.
Marlee Matlin, who also appeared with Garner in the 1997 TV film Dead Silence, said: "Away from home; can't sleep. Now sad to read my dear friend & co-star James Garner passed. RIP sweet Jim Rockford."
Paying further tribute, CSI actress Marg Helgenberger said: "RIP James Garner. I had the privilege of working with him in the film, My Fellow Americans. Such a lovely man and wonderful actor."
Rocky actor and one time American football star Carl Weathers tweeted: "My fond memory of James Garner was of him standing on the sidelines when I played with the Raiders. You inspired me, Jim. RIP #BePeace"
US tennis great Jimmy Connors added: "James Garner-- entertained us for years. Glad I got to meet him. R I P Maverick!!!!!"
"A great guy and a great actor passed away today - James Garner. A dear man...Rest in peace, James," said veteran US broadcaster Larry King.